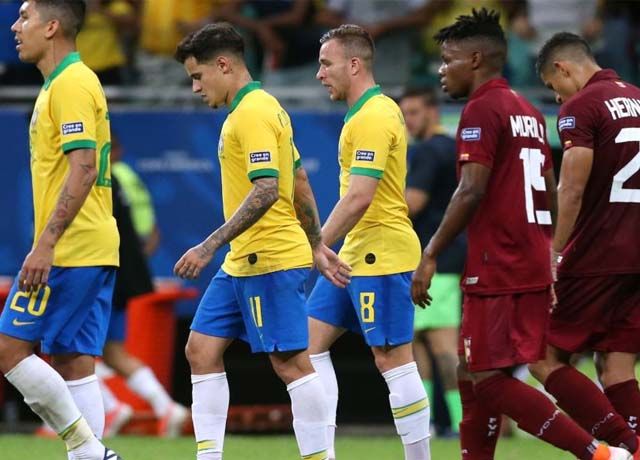 Sports Desk – On Wednesday, Copa America (Copa America Groups) in Brazil faced Venezuela and both the teams remained scoreless, final score was 0-0.
In the first half, Venezuela looks quite dominating over Brazil in terms of attacking game. However Roberto Firmino scored in the first half but the refree gave it offside and the goal was not given.
In the second half, Brazil got the support from his players. A lot of efforts were made by the Brazilians. Gabriel Jesus netted the ball in 60', unfortunately the goal was not given again by the Video Assistant Refree. Philip Coutinho striked late in the match scoring in 87' and this time also, the goal was given as offside by the VAR.
The whole story remained a drama, all eyes were on the refree. Brazil scored thrice in the game and all the three times, the goal was not considered. We may say it as a bad luck for the yellows.
Brazil coach Tite was claiming that the VAR was correct. He said – "VAR was correct. I have absolutely nothing to demand. We got justice. They made the right call with both [VAR] goals."
He was not happy with the performance of his team. He added – "We have to understand the supporters, they want to see goals and if I had been in the crowd I also would have wanted to boo us." He also regards VAR by saying – "Long Live VAR."
Brazil are on the top of the Group A securing 4 points, and Venezuela at the third position with 2 points only. Brazil will take on Peru on Sunday and Venezuela will face Bolivia on the same day.