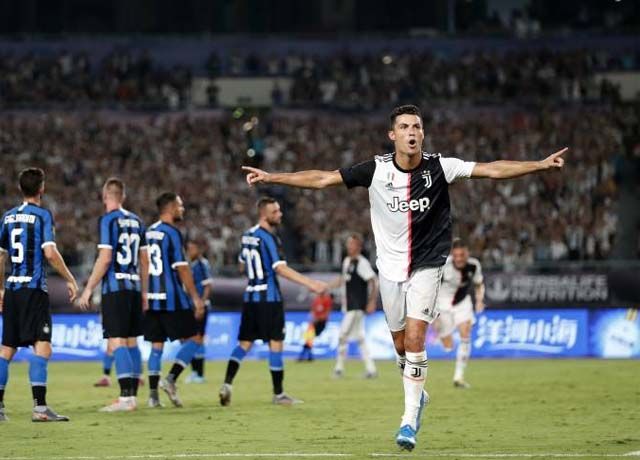 Sports Desk – On Tuesday, Juventus defeated Inter Milan in penalties with Gianluigi Buffon super saves.
The Juve-Inter rivalry is one of the best football rivalries in the world and you Inter Milan is the team who can give a tough competition to the Bianconeri.
Juventus stated a comeback in their second match against Inter Milan as they defeated them by 4-3 in penalties with Gianluigi Buffon fantastic saves for his team.
The first goal of the match got in the hands of Inter Milan. No, not any of the player of Inter done that but you will be surprised to read that Matthijs de Ligt conceded an own goal in 10' in just his second match for Juve. The youngster gave a gift to Inter and he feel very bad after that.
But Juve has the best player in the world and with him they can destroy any team in the world. Cristiano Ronaldo scored the second goal of the match in 68' with his trademark. He netted the ball in a freekick from outside the penalty area. A deflection from Inter's player helped him to put the ball in the goal.
- Advertisement -
His goal was the last one in the match. The final whistle came and the scoreline remains 1-1.
In penalties, Ronaldo scored again. Besides him, Buffon was their saviour for Juve as he saved two goals from Inter Milan players. Buffon is a real playmaker and he is the oldest goalkeeper in the world who is playing for more than 17 years with Juve.
Can you imagine that he is 41 years old and still playing for one of the best teams in the world.
On the same day, Atletico Madrid defeated Guadalajara in penalties by 5-4 (scoreline was 0-0) and Bayern Munich defeated AC Milan by 1-0.
This is weird to read that 3 out of 4 matches in one day got their results in penalties.
Apart from these matches, Benfica defeated Fiorentina by 2-1 on Wednesday. On the same day, Tottenham will face Manchester United.