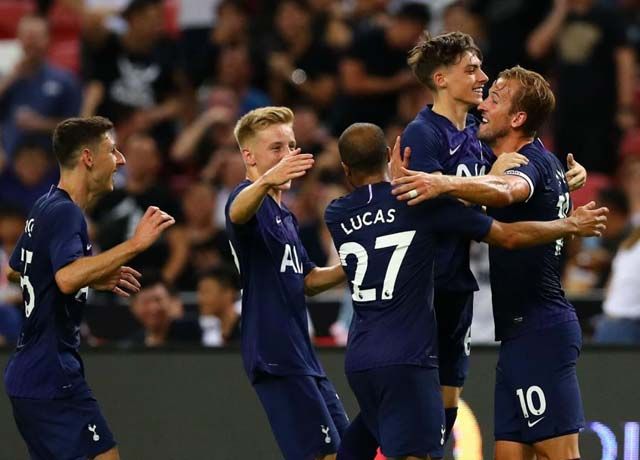 Sports Desk – On Sunday, Tottenham defeated Juventus by 3-2 with a late goal coming from Harry Kane
The match between Tottenham and Juventus was superb as both the teams made a comeback warning each other in this International Champions Cup 2019.
Gonzalo Higuain and Gianluigi Buffon are back to Juve after their one year free transfer to Chelsea and PSG respectively. As of the match scoreline, Higuain scored a goal and made it clear about his thinking related to this year's football campaign.
The first goal of the match was scored by Erik Lamela in 30'. Tory Parrott tried to make a pass but well defended by Buffon. Thus the ball deflected with his hands and Lamela pushed the ball smoothly.
In the second half, Higuain netted the ball in 56' to equalize the scoreline, after which Cristiano Ronaldo scored a great goal by touching the ball (passed by his national teammate – Joao Cancelo) with his right foot.
- Advertisement -

But Tottenham made a comeback in the game. Lucas Moura scored a brilliant goal, sliding and putting the ball to the top left corner. Now, the scoreline became 2-2 and with that the match went so interesting.
In the injury time, Kane kicked the ball from the half line of the field and the ball went to the top right corner beating Wojciech Szczesny who was standing ahead the penalty area and failed to make a save for his team.
It was only Juve's fortune that take the win away from their hands.
On Tuesday, these matches are to be played:
Real Madrid vs Arsenal
Guadalajara vs Atletico Madrid
Bayern Munich vs AC Milan
Juventus vs Inter Milan
All these matches would be interesting to see, especially the match between Real Madrid and Arsenal because Eden Hazard has made his debut for RMA and now he will be playing a full length game after his substitution in the first match of this ICC 2019.