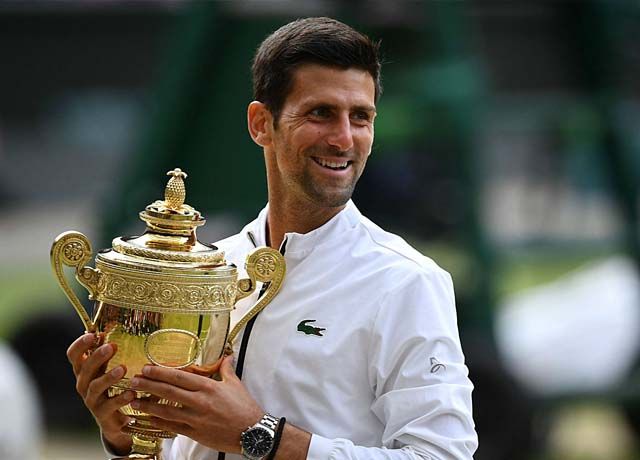 Sports Desk – On Sunday, Novak Djokovic defeated Roger Federer to lift the Wimbledon title for the second time.
The biggest final of Tennis that you will ever see as Novak Djokovic faced Roger Federer in Wimbledon 2019 final. World's No.1 defeated World's No.3 in a big pressure game because both the sides were strong in their own.
The game was very interesting after watching two greats giving a tough competition to each other. The story is discussed here….
The first set of the game was won by Djokovic by just a point lead over Federer, he was won by 7-6. But in the second set, Federer began to cure his lost possession as he marked a big 5 point lead over Djokovic, he won the set by 6-1. After which, Djokovic and Federer repeated their first set pointline that means Djokovic won the set again by 7-6.
In the fourth set, Federer took two points lead over Djokovic and reconstructed his victory ways. But that was not enough for him to beat the World's No.1.
- Advertisement -
In the last set, Federer gave his best to become the World Champion but lost it by just a point behind Djokovic won the set by 13-12.
At the end, point were distributed as 7-6, 6-1, 7-6, 4-6, 13-12 and Djokovic lifted his second Wimbledon title for a cause. He showed the world again that why he is at the top of Tennis.
On the other hand in Women's Singles, Simona Halep defeated the 37 year old Serena Williams in just a two set game. She marked four points lead over Serena in both the sets and that was enough for her to be the World Champion for the first time. At the final, the points were distributed between them as 2-6, 2-6.