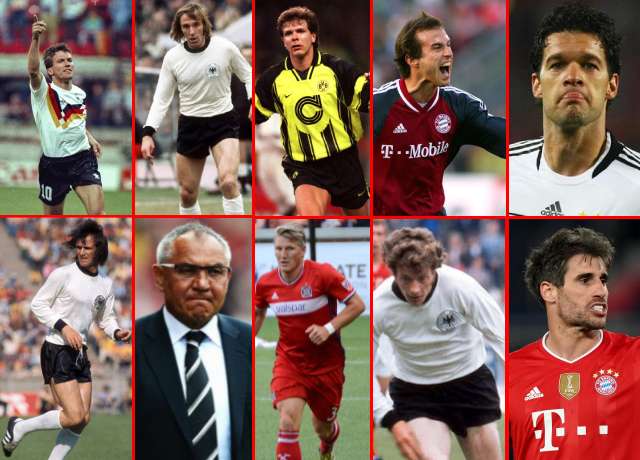 These are the 10 greatest midfielders in Bundesliga history
Bundesliga is one of the top five football leagues in Europe. Though its competitiveness is lower than the Premier League, it had some great players who are still believed to be one of the greatest ever.
This article will tell you about the 10 greatest midfielders in the history of Bundesliga. Let me tell you that it's neither the 'top 10' list nor any comparison between them.
- Advertisement -
So here is the list.
Greatest Midfielders In Bundesliga
Lothar Matthaus – Matthaus is widely considered to be one of the greatest central midfielders of all time. He played for many teams during his career but he spent more than half his career at Bayern Munich.
Wolfgang Overath – Overath was known for his technique and his excellent left foot. He excelled at being an attacking midfielder.
Guenter Netzer – Netzer's time at Bundesliga was only spent at Gladbach. He helped the club win 2 Bundesliga titles, 1 DFB-Pokal and a runner-up place in UEFA Cup.
Andreas Moller – Moller was an extremely talented midfielder who was successful everywhere he went especially with Dortmund. He helped set the standard of a modern attacking midfielder in the Bundesliga.
Mehmet Scholl – Scholl used his creativity to open teams up allowing Bayern more scoring chances as well scoring on quite a lot of occasions himself.
Michael Ballack – With Ballack, Bayer Leverkusen ended up being runner-ups in Bundesliga, DFB-Pokal and the Champions League.
Felix Magath – Magath has some of his goals being the most important in the Hamburg's history. He scored in both European Cup Winners' Cup final and Champions League and helped the club win on both occasions.
Bastian Schweinsteiger – Bastian operated as a deep lying playmaker and was successful in defensive work too because of his incredible stamina. He is often called midfield motor or midfield mastermind.
Herbert Wimmer – Wimmer's hard working attitude has become a staple of how Bundesliga greatest midfielders ever should approach the game.
Javi Martinez – Javi is one of the most underrated players of the last decade. He won 8 Bundesliga titles, 2 Champions Leagues (both Trebles), 5 DFB Pokals, 1 FIFA Club World Cup with Bayern Munich.