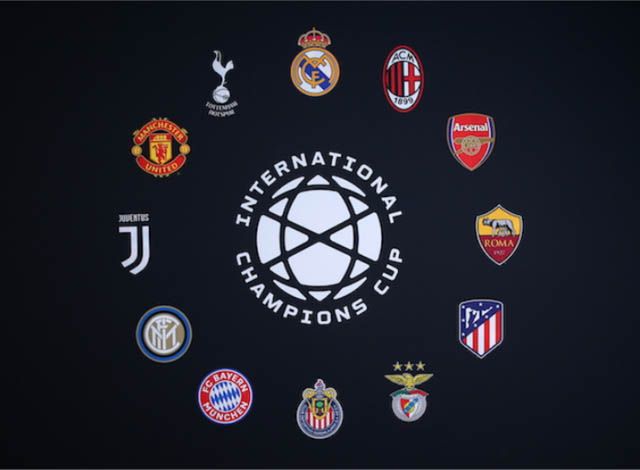 Sports Desk – International Champions Cup (ICC) 2019 will begin from 16 July with 12 teams participating.
The 7th edition of ICC will be played from 16 July to 10 August with a total of 12 teams participating in the tournament. The schedule of ICC was announced on March 28, 2019.
Each team will play 3 matches and a total of 18 matches will be played between the clubs.
- Advertisement -
Fixtures
| | | |
| --- | --- | --- |
| Date & Time | Venue | Matches |
| 16 July, 20:00 CDT | SeatGeek Stadium | Fiorentina vs Guadalajara |
| 17 July, 20:00 PDT | Dignity Health Sports Park | Arsenal vs Bayern Munich |
| 20 July, 19:30 SGT | National Stadium | Manchester United vs Inter Milan |
| 20 July, 13:00 PDT | Levi's Stadium | Benfica vs Guadalajara |
| 20 July, 18:00 EDT | Bank of America Stadium | Arsenal vs Fiorentina |
| 20 July, 19:00 CDT | NRG Stadium | Bayern Munich vs Real Madrid |
| 21 July, 19:30 SGT | National Stadium | Juventus vs Tottenham Hotspur |
| 23 July, 19:00 EDT | FedEX Field | Real Madrid vs Arsenal |
| 23 July, 20:00 CDT | Children's Mercy Park | Bayern Munich vs Milan |
| 23 July, 20:00 CDT | Globe Life Park | Guadalajara vs Atletico Madrid |
| 24 July, 19:30 CST | Nanjik Olympic Sport Centre | Juventus vs Inter Milan |
| 24 July, 20:00 EDT | Red Bull Arena | Fiorentina vs Benfica |
| 25 July, 19:30 CST | Hongkou Football Stadium | Tottenham Hotspur vs Manchester United |
| 26 July, 19:30 EDT | Metlife Stadium | Real Madrid vs Atletico Madrid |
| 28 July, 15:00 EDT | Gillette Stadium | Milan vs Benfica |
| 3 Aug, 17:30 BST | Principality Stadium | Manchester United vs Milan |
| 4 Aug, 15:00 BST | Tottenham Hotspur Stadium | Tottenham Hotspur vs Inter Nilan |
| 10 Aug, 18:00 CEST | Friends Arena | Atletico Madrid vs Juventus |
Must Watch Matches
Arsenal vs Bayern Munich
Manchester United vs Inter Milan
Bayern Munich vs Real Madrid
Juventus vs Tottenham Hotspur
Real Madrid vs Arsenal
Bayern Munich vs Milan
Juventus vs Inter Milan
Tottenham Hotspur vs Manchester United
Real Madrid vs Atletico Madrid
Manchester United vs Milan
Tottenham Hotspur vs Inter Milan
Atletico Madrid vs Juventus
Star Players
Cristiano Ronaldo (JUV)
Eden Hazard (RMA)
Mesut Ozil (ARS)
Son (TOT)
Harry Kane (TOT)
Paulo Dybala (JUV)
Diego Costa (ATL)
Paul Pogba (UTD)
De Gea (UTD)
Sergio Ramos (RMA)
Luka Jovic (RMA)
Karim Benzema (RMA)
Isco (RMA)
Toni Kroos (RMA)
Casemiro (RMA)
Luka Modric (RMA)
Federico Chiesa (FIO)
Robert Lewandowski (BYM)
Frank Ribery (BYM)
Manuel Icardi (ITM)