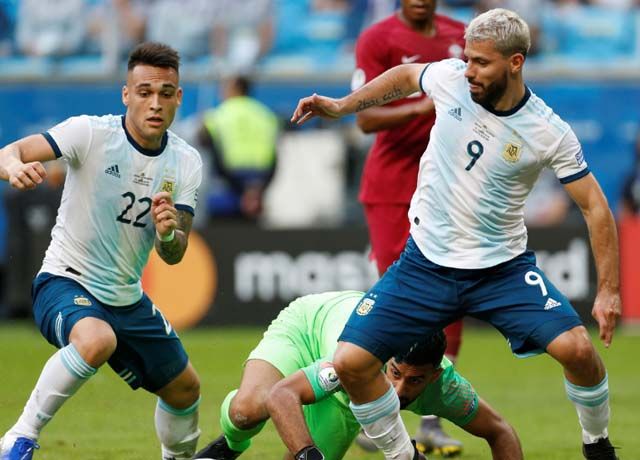 Sports Desk : Argentina downed Qatar 2-0 courtesy goals by Lautaro Martinez and Sergio "Kun" Aguero, thus moving to the quarterfinals for Group B in Copa America 2019. Lionel Scaloni's side finish second in Group B behind Colombia, and will face Venezuela in the last eight.
Argentina had been in last place in Group B, having lost to Colombia 2-0 and battled Paraguay to a 1-1 draw, and the so far rather disorganized squad was desperate for the win on Sunday to get them through to the elimination stage. On Sunday, Lautaro took advantage of a Qatari gift in the 4th minute to open the scoring and Aguero made a great individual effort on a powerful shot in the 82nd minute for the second tally.
@Argentina clasificó y enfrentará a Venezuela en cuartos. #CopaAmérica
??? https://t.co/eu0AUducgk pic.twitter.com/rXkmQARBIA

— Copa América (@CopaAmerica) June 24, 2019
Meanwhile, group winners Colombia's 1-0 win over third-placed Paraguay ensured Argentina's progress.
A 2-0 defeat by Colombia and a 1-1 draw with Paraguay had meant that Argentina had to beat the group's bottom side Qatar to a avoid a humiliating group-stage exit from the competition.
- Advertisement -

However, it was far from a comfortable evening for the two-time World Cup winners against the 2022 World Cup hosts, who are ranked 55th in the world – despite making the perfect start, with 21-year-old Inter Milan forward Martinez scoring so early.