Here we show you Uruguay's probable starting XI for 2022 FIFA World Cup
Can you guess which Uruguay player has the highest market value at present? We have gathered some information on the best players in the world, that is, their all time performance stats.
This article will tell you about Uruguay's probable starting XI for 2022 FIFA World Cup, that, is, how they could line up in the tournament.
Uruguay's starting XI
Darwin Nunez (LW/ST) – Darwin Nunez has been scoring some goals for Liverpool lately. But he still needs furnish his skills in order to get the best out of himself.
- Advertisement -
Luis Suarez (ST) – The former Catalan may have downgraded in terms of league competition but he has still got those crazy finishing skills. He may lead Uruguay as the captain in the upcoming tournament.
Edinson Cavani (RW/ST) – Valencia have not had a good season, not to mention Edinson Cavani has not shown yet what he is capable of at his new club.
Rodrigo Bentancur and Lucas Torreira (LM/CM) – Tottenham Hotspur are third on the Premier League points table thanks to Bentancur's great help. He and Fede Valverde will be supported by Galatasaray's Lucas Torreira.
Fede Valverde (AMF/CM/RM/CDM) – Looking at his recent performances, the Real Madrid midfielder is undoubtedly the top 5 midfielder in the world right now. He has scored seven goals and two assists this season far.
Ronald Araujo (CB) – Barcelona are doing great in La Liga. Ronald Araujo's presence in the team supports has helped the defense a lot as he has improved himself a lot in last few months.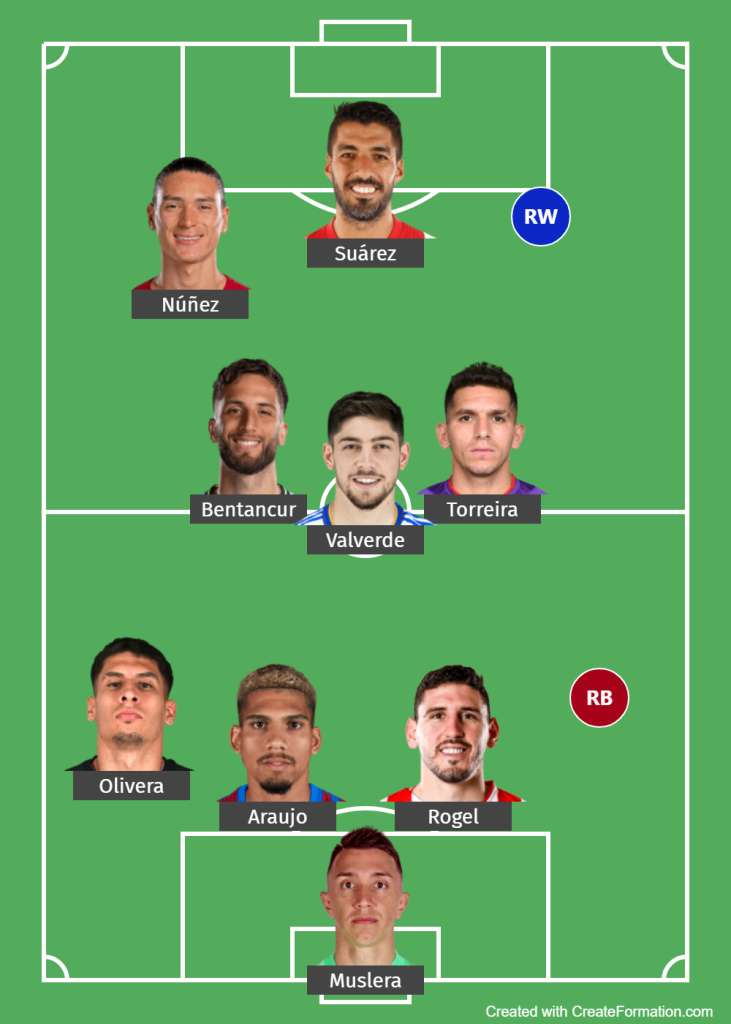 Also Read: 2022 FIFA World Cup Free Live Streaming in India
Also Read: 10 Best Apps To Watch 2022 FIFA World Cup Live Streaming Free
Uruguay's possible starting XI
Darwin Nunez – LW/ST
Luis Suarez – ST
Edinson Cavani – RW/ST
Rodrigo Bentanzur – LM/CM
Lucas Torreira – CM
Fede Valverde – AMF/CM/RM/CDM
Mathías Olivera – LB
Agustín Rogel – CB
Ronald Araujo – CB
Guillermo Varela – RB
Fernando Muslera – GK