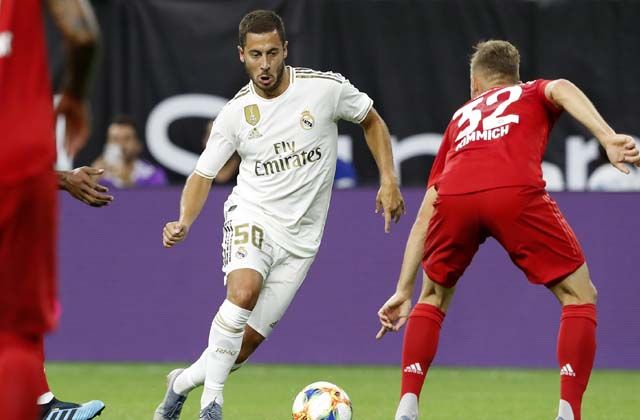 Sports Desk: On Saturday, Bayern Munich defeated Real Madrid by 3-1 which is a huge loss for RMA n their first match of International Champions Cup 2019.
Real Madrid has began their ICC 2019 campaign badly as they lost to Bayern Munich by two goals falldown. On the other hand, Bayern Munich took their first three points in the points table. Defeating the best club in the world was not an easy task but Bayern has done their work quite simply.
The match was not so interesting as expected by fans because in the beginning, Bayern took a goal lead over RMA and after which La Liga giants lost their much confidence and were not able to comeback in the first half. Eden Hazard was playing the first half but substituted in the second.
The first goal of the match was scored by Corentin Tolisso in 15′ which gave a sudden shock to Real. They did not expect an early goal in the match even when Sergio Ramos and Raphael Varane were controlling the centre back positions.
In the second half, Zinedine Zidane substituted his whole playing 11, which means that his main forward, mid-fielder and centre back – Eden Hazard, Luka Modraic and Sergio Ramos were out of the field. Luka Jovic was substituted in place of Karim Benzema but nobody knows what was running in Zidane's mind but being as one of the best managers in the world, maybe this was a tactic for a comeback.
- Advertisement -

The second goal was scored by Robert Lewandowski in 67′ with a great finish, beating Keylor Navas. The third goal for Bayern was scored by Serge Gnabry in 69′. And then it's done for Bayern because doing four goals in coming 20 minutes is not an easy work for RMA. The only goal for RMA was scored by Rodrygo Goes in 84′.
The final whistle came and Bayern defeated RMA by 3-1.
On the same day, Juventus will face Tottenham. The fans will expect goals from Cristiano Ronaldo who will be playing under his new coach – Maurizio Sarri.