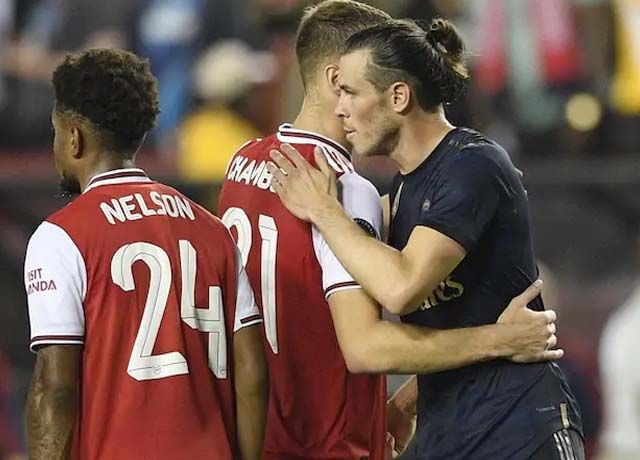 Sports Desk- On Tuesday, Real Madrid played a tie with Arsenal but defeated him in penalties
Real Madrid stated a comeback in their second game of International Champions Cup 2019. First they played a tie game with Arsenal with a scoreline of 2-2 but defeated them in penalties by 3-2.
Eden Hazard has already played his debut for RMA and in the second match, he was playing as a left mid-fielder (4-4-2 formation for RMA).
At the beginning of the game, Nacho Fernendez got a red card in 9'. The first goal of the match was scored by Alexandre Lacazette in 10' in a penalty after a foul committed by Nacho. The second goal of the match was scored by Pierre Emerick Aubameyang in 24'. After cutting the ball from Keylor Navas, he kicked the ball into the nets.
In between the match, Sokratis Papastathopoulos got a red card in 40' for tackling Luka Modraic.  
- Advertisement -
After Arsenal took two goals lead over the La Liga giants, Gareth Bale scored a goal in 56' with an easy foot touch to get the ball into the nets. But Marco Asensio was not behind him, he too scored a fantastic goal in 59' with his known range shoot goals.
The final whistle came and the scoreline remains 2-2.
Now in the penalties, Bale failed to convert a penalty but other players do their job with responsibility. Why RMA won the game in penalties was just because of two Arsenal players who were not able to win the match for their team.
On Wednesday, Fiorentina will face Benfica and Tottenham will clash with Manchester United. Two great Premier League clubs and that game will be very interesting to see.