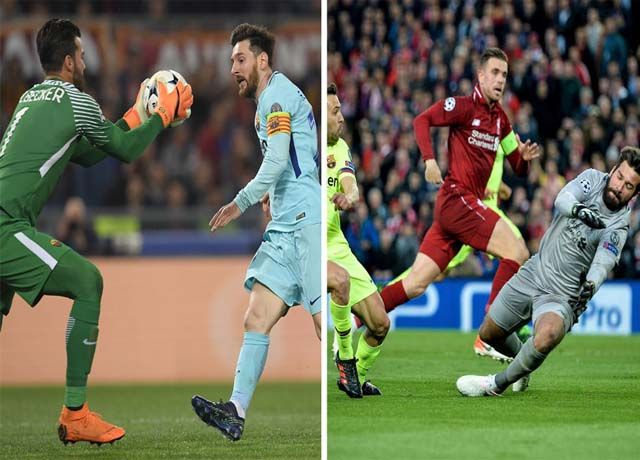 Sports Desk – It is difficult to adopt but it seems that the Alisson Becker is a curse for Lionel Messi. With a bad start in the campaign, on Wednesday, Argentina lost to Brazil in the semi-final of the Copa America 2019.
Many people said that the presence of Alisson Becker in every game against Lionel Messi has become a curse for the Argentine. This can be concluded with the following matches between Becker and Messi:
AS Roma vs FC Barcelona
In 2018 UEFA Champions League, Barcelona was winning the first leg of quater final by 4-1 against Roma at their home ground – Camp Nou. But in the second leg, the match was in Stadio Olimpico and Becker was playing the game. Roma scored their 3-0 goals to level the scoreline but won the game on more away goals than Barca. At that moment, nobody is aware of Becker's curse and also he was not well known at that time.
Liverpool FC vs FC Barcelona
In this year's UCL, Barcelona was playing against Liverpool in the semi-final at their home ground and both the teams were looking powerful. Barca scored 3 goals to make Liverpool down by 3-0, but as in the second leg, the game was to be held at Liverpool's home ground – Anfield. Liverpool scored 4 goals in that game to defeat the Catalans by 4-0 (4-3 on aggregate). In that match as well, Becker started in playing XI. But till then, he became famous for his goalkeeping and won the Golden Glove.
Brazil vs Argentina
A day before yesterday (on Wednesday), Brazil faced Argentina in the semi-final of Copa America 2019. Again the curse was playing the game against Messi and in that game as well, Argentina lost to Brazil by 2-0.
It can be seen through the loosing ways of Leo Messi that from 2018 onwards, whenever he played against Becker, he lost that game. However, one common thing we can also be concluded is that Messi has lost every of his game against Becker in the semi-final only.
These three game are enough to make this contradiction that 'Alisson Becker is a curse for Lionel Messi'.