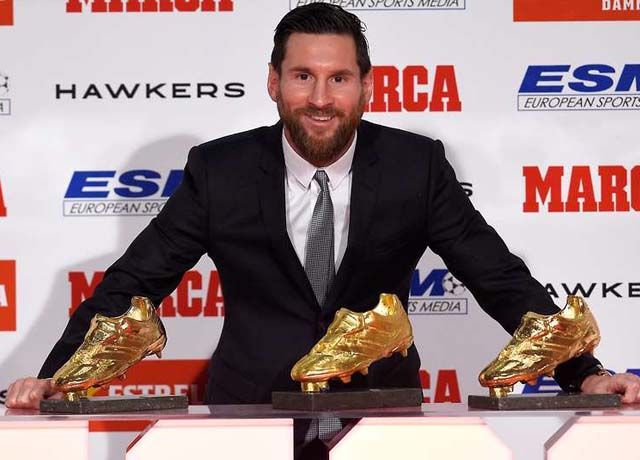 Sports Desk- Messi finishes top of the rank scoring 36 goals to win the European Golden Shoe for the sixth time in his career.
The only man who could stand with Messi at the 2nd position is Kylin Mbappe of Paris Saint Germain (PSG) who scored 33 goals in the season, just 3 goals behind the Argentine.
Messi is the first player to get this honour for three times in a row. He scored 34 goals in the last season (2017/18) and 37 in the second last season (2016/17).
- Advertisement -
If you missed the goals scored by him in this La Liga, here are the highlights:
This will be the best one minute of your day. Stop what you're doing and watch.

⚽️⚽️⚽️⚽️⚽️⚽️
⚽️⚽️⚽️⚽️⚽️⚽️
⚽️⚽️⚽️⚽️⚽️⚽️
⚽️⚽️⚽️⚽️⚽️⚽️
⚽️⚽️⚽️⚽️⚽️⚽️
⚽️⚽️⚽️⚽️⚽️⚽️

?? L E O M E S S I ❤️? pic.twitter.com/PCxBxyV6Cp

— LaLiga (@LaLigaEN) May 23, 2019
In a Press conference, he spoke about his Golden Shoe and said that it was really not the thing he was thinking about.
He said: "I am honestly not even thinking about the European Golden Shoe. It's not in my head at all. What happened at Liverpool is, like I said it was a big blow and I am not thinking about personal things, just getting to this Copa final and winning another trophy."
The Barcelona captain will face Valencia in the final of Copa del Rey Cup on Sunday 26 May at 12:30 (IST).