Here is the most valuable XI including most valuable free agents as of summer 2022
Who is currently the most valuable free agent in the world? We gathered some information from Transfermarkt for some of the best players in the world, that is, their current performing stats.
This article will tell you about the top 10 clubs in the world as updated by UEFA for 2021/22 season.
Free Agents (Squad Value – €477M)
Kylian Mbappe – €160m
Andrea Belotti – €28m
Ivan Perisic – €10m
Paulo Dybala – €40m
Ousmane Dembele – €30m
Paul Pogba – €35m
Frank Kessie – €45m
Antonio Rudiger – €35m
Andreas Christensen – €35m
Matthias Ginter – €24m
Andre Onana – €15m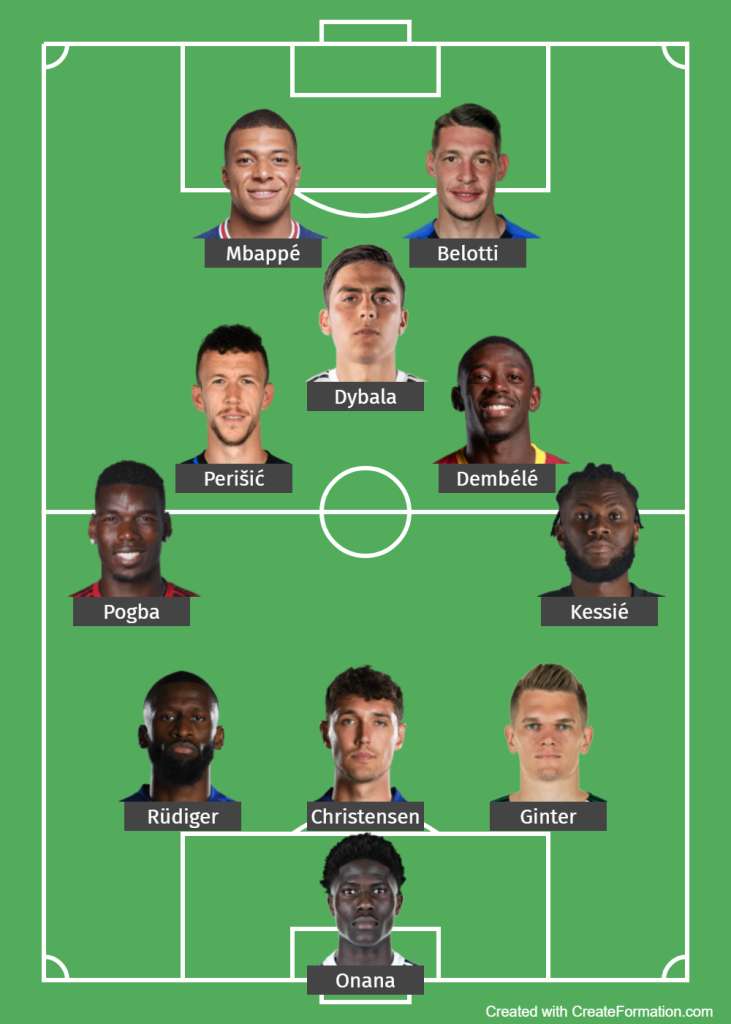 It is almost a done deal between Kylian Mbappe and Real Madrid. The Spanish giants defeated PSG 3-2 in the second leg of UEFA Champions League this season, knocking them out of the title race.
- Advertisement -
Paulo Dybala is in talks with many European giants like Manchester United, Borussia Dortmund and Tottenham Hotspur. His contract with Juventus is going to expire by the end of this season.
Also Read: The untold story of Diogo Jota
Medhi Benatia is expecting him to leave Italy in this summer and has revealed his emotions related to his former teammate.
"No, honestly I didn't. In recent years he has always been at the centre of the project as the number 10, goal scorer and captain in Giorgio's absence.
Also Read: Kevin De Bruyne vs Angel Di Maria – All Stats You Need To Know
"He's always been in love with Juventus, unfortunately he's had his ups and downs with the club and that was the final decision. I am very sorry because I would have liked to see Dybala here in Turin still."
He revealed that he expects 'La Roja' to join a foreign club in the summer.
"I only see Paulo at Juve in Italy, not at other clubs. He's now a top player, so he'll have the chance to play in Spain, France and Germany. There's no doubt about that. He'll do well in any team, I wish him the right decision. He's a true friend, I love him a lot."