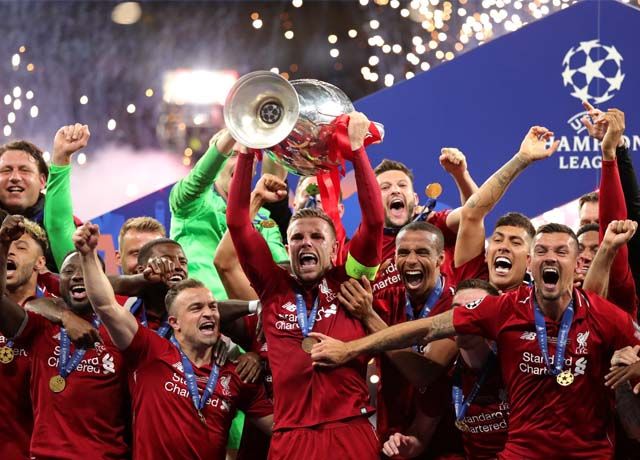 Sports Desk: Liverpool defeat Tottenham 2-0 in Champions League final. Mohamed Salah's early penalty and Divock Origi late strike gave Liverpool a 2-0 win over Tottenham Hotspur in the UEFA Champions League 2019 final at the Wanda Metropolitano stadium on Saturday. Tottenham failed to complete their dream of winning their first UCL title.
Both the teams has started their season so willingly to win the UCL, but in the end a drama was waiting for them as both the teams were losing their games in the first leg of semifinal. But no one can imagine that they will do an unbelievable historic comeback in the second leg of semifinal.
? CHAMPIONS OF EUROPE! ?#UCLfinal pic.twitter.com/4W9diw8Q94

— #UCLfinal (@ChampionsLeague) June 1, 2019
- Advertisement -
In the first leg of semifinal, Liverpool were losing to Barcelona by 3-0, but in the second leg, even Liverpool couldn't believe that they defeat Barca by 4-0 as Origi and Wijnaldum scored a brace for their team. The last goal for them was ridiculous. Alexander Arnold was going to take the corner for Liverpool, but suddenly he stopped and started to walk and as soon as he saw the opportunity he passes a short corner to Origi and he scores. The final score on aggregate was 4-3.
For Tottenham, the magical goal scorer was Lucas Moura when he scored his hat-trick in the second leg of semifinal against Ajax. The youngsters were winning the game by 2-0 but Tottenham didn't know that their star player will score three goals to tie the match for them. The final aggregate score was 3-3 and Tottenham won the match as they has more away goals than Ajax.
When you are a football lover, these records are unimaginable to you. Liverpool manager, Klopp, was looking cool even when they were losing the game. Let you know that Mohammad Salah was not playing the game and was watching it through the stands. He was wearing a black T-shirt on which was written 'Never Give Up' and what Liverpool does in the semifinals that they never give up the game to the opposition.