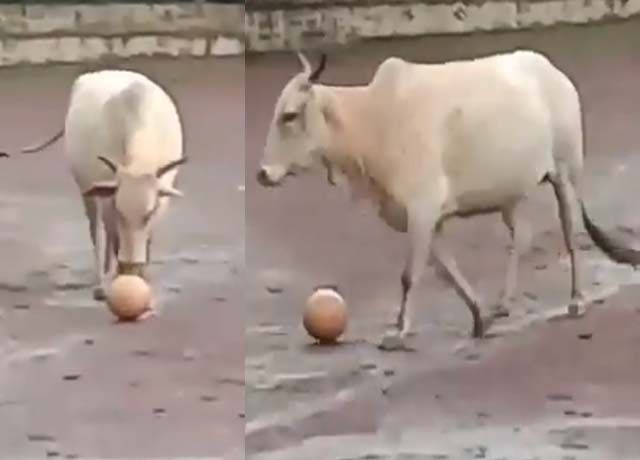 Sports Desk – A cow was seen on the street playing football with some boys. Therefore, he was given the name – Cristiano Ronalcow. Everyone is aware of the football legend – Cristiano Ronaldo, but have you ever seen a cow playing football. Not like a pro, but at least she can move the ball with her legs, which is enough to give her such a wonder name.
On Tuesday, Harsha Bhogle posted a video on Twitter in which a cow was seen playing football on streets somewhere in Goa, showing her dazzling football skills with some boys. It is not logical to link her with CR7 but only because this was the first time a cow was seen playing football.
This is the funniest thing you will see today! pic.twitter.com/Kfz08Dka3Z

— Harsha Bhogle (@bhogleharsha) July 1, 2019
The ball was between her legs and one boy from them tried to retrieve the ball but as soon as the ball gets far from the cow, she starts to run behind it. People began to gather on the street while the passerby stopped their vehicle to watch the cow showing her animal skills.
Watching this, a user commented on the post –  That's Christiano Ronalcow. Another user commented – Gaaychung Bhutia linking the Indian football legend – Bhaichung Bhutia.
- Advertisement -