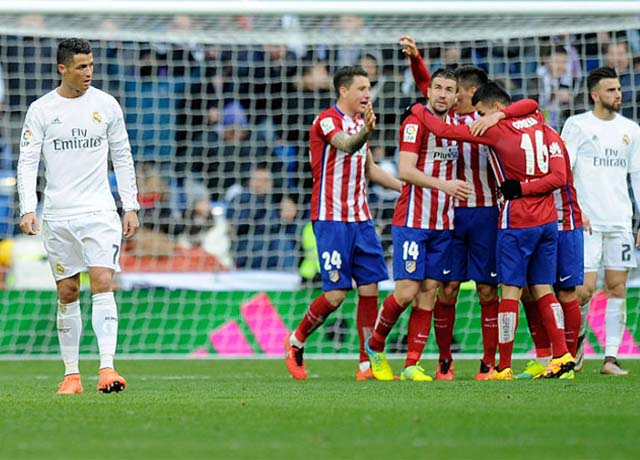 Sports Desk – On Friday, Atletico Madrid defeated Real Madrid by 3-7, which is a huge loss for La Liga giants. Real Madrid has lost their confidence totally after their first defeat in International Champions Cup 2019 against Bayern Munich.
They recovered their lost confidence in their second match but after Marco Asensio's injury in that match against Arsenal, the club seems to change his winning ways.
In their third match against Atletico Madrid, they lost to them by 4 goals margin which is huge for the best club in the world. The Madrid Derby is one of the best rivalries in the world and Real Madrid has dominated Atletico in recent years.
In fact during the match, Gareth Bale was seen laughing at Zinedine Zidane for his bad coaching form. This can be seen with the face that after the arrival of Cristiano Ronaldo, the club has failed to gain his momentum and is losing his game one after the other.
Was that the worst decision that Real Madrid have made ever? Selling Ronaldo is one of the biggest mistakes they have ever done. Coming to the match story, here are the highlights that you can read…
Diego Costa scored 4 goals in the match and then got a red card in 65' with Dani Carvajal supporting him in this scene. Scoring foul goals against this type of team is not easy work to do but getting a red card also is the big mistake he has done. In fact, Real Madrid conceded their first goal in just the first minute of the game.
The debut boy – Joao Felix also scored the goal in the match in 8'. Then Angel Correa and Vitolo increased the lead in 19' and 70' respectively.
From RMA side, Nacho Fernandez, Karim Benzema and Javier Hernandez netted the ball in 59', 85' (P) and 89' respectively.
Most of the Real Madrid fans are demanding the club to bring back Ronaldo from Juventus because they want to get back their victory ways and watch Ronaldo and Lionel Messi playing against each other.
On Sunday, Benfica will face AC Milan. Milan has played only one match in this ICC 2019 and Benfica have won both of his matches in this campaign.