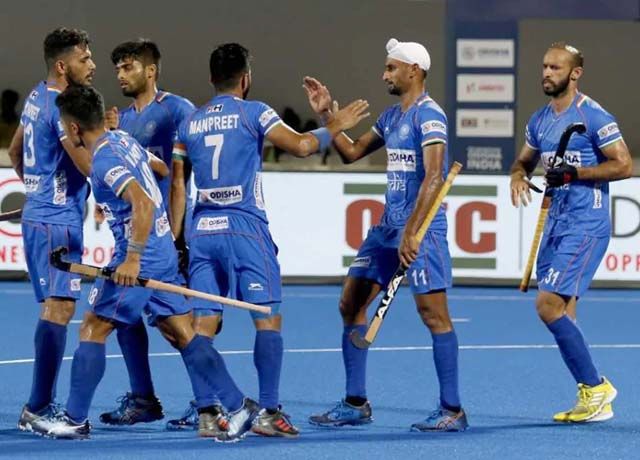 Sports Desk – India beat Japan by 7-2 in the semi-final of FIH Series to get to the Olympic qualifiers.
On Friday in Bhubaneswar, the hosts of FIH Series gains a 5 goal lead over Japan in the semi-final to enter the Olympic qualifiers. The beginning was not so good, but the Blues set their own path to the victory in the end.
In the other semi-final, South Africa defeat USA by 2-1 to reach the finals of the Series. A thrilling minute goal from the team takes them to the Olympic qualifiers as well. India will face South Africa in the final of the FIH Series on Saturday.
Kenji Kitazato netted the ball for the first time in the match in 2'. But a surprising 7' goal from Harmanpreet Singh in a penalty corner level the lead by 1-1. Again in a penalty corner, Varun scored the goal in the 14'.
But the match had not been ended yet, Kota Watanabe scored an equalizer in the 20' and level the scores by 2-2, which remains the story of the first half. After then, India became an aggressive attacker in the game and never looked back as they continue to score goals one after the other.
A brace coming from Ramandeep Singh in 23' and 27' raised the hopes of Indians again. After which, Hardik Singh, Gursahibjit Singh and Vivek Sagar Prasad maintains the lead in the game and the results ended as 7-2 victory over the Japanese.
USA and Japan will fight for the third place on Saturday at 17:00 IST.