This article will tell you about the career highlights of basketball player Carmelo Anthony
Carmelo Anthony, born on May 29, 1984, in Brooklyn, New York, is a highly accomplished and prolific basketball player.
Known for his scoring ability, versatile offensive skills, and scoring versatility, Anthony has established himself as one of the most accomplished scorers in NBA history.
Net Worth – $160 million
Early Career
Anthony's basketball journey began at Towson Catholic High School in Baltimore, Maryland. He gained national recognition for his exceptional scoring ability and led his team to multiple championships. Anthony's impressive high school career made him one of the most highly recruited players in the country.
In 2002, Anthony enrolled at Syracuse University, where he continued to showcase his scoring prowess. In his freshman year, he led the Syracuse Orange to a national championship, earning the tournament's Most Outstanding Player award.
Anthony's offensive skills, including his ability to score from anywhere on the court, caught the attention of NBA scouts.
NBA Career
In 2003, Anthony declared for the NBA Draft and was selected as the third overall pick by the Denver Nuggets. He made an immediate impact, earning the NBA Rookie of the Year award.
Anthony's scoring ability and offensive versatility were on full display, as he averaged 21 points per game in his rookie season.
During his tenure with the Nuggets, Anthony emerged as one of the league's premier scorers. He consistently ranked among the top scorers in the NBA, utilizing his mid-range jump shot, post-up game, and ability to drive to the basket.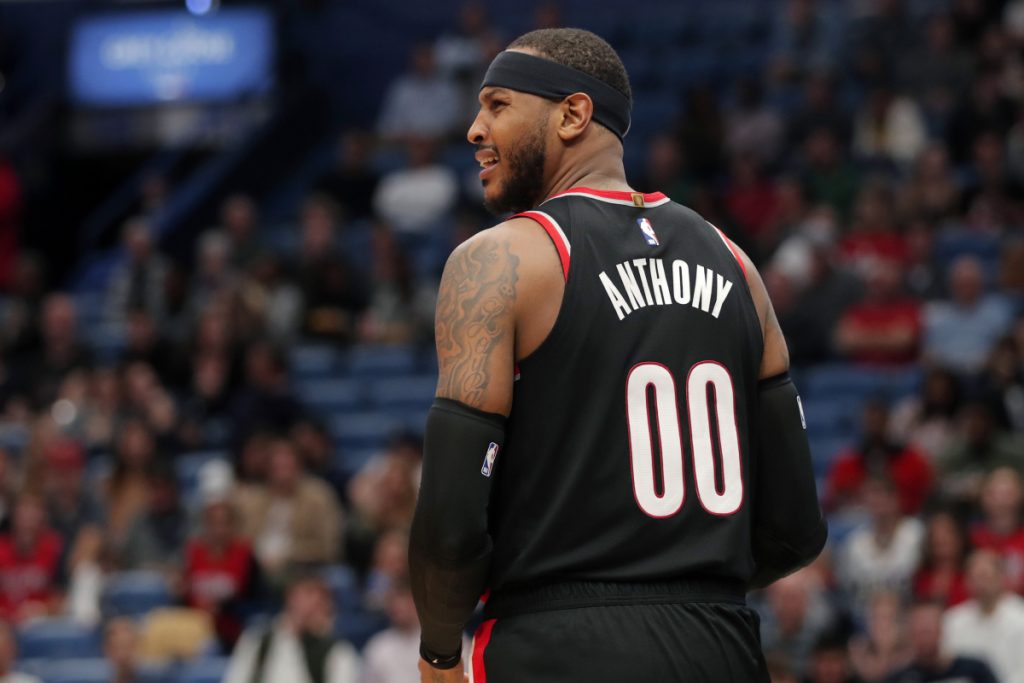 Anthony's offensive repertoire made him virtually unstoppable, as he averaged over 20 points per game in each of his first eight seasons with the Nuggets.
In 2008, Anthony represented the United States in the Beijing Olympics, winning a gold medal and showcasing his talents on an international stage. He went on to play in several more international competitions, further solidifying his status as one of the game's elite players.
In 2011, Anthony was traded to the New York Knicks, returning to his hometown and becoming the centerpiece of the franchise. He immediately made an impact, revitalizing the Knicks and leading them to the playoffs.
Anthony's scoring ability reached new heights during his time with the Knicks, as he won the NBA scoring title in the 2012-2013 season, averaging 28.7 points per game.
Transfer Era
Despite Anthony's individual success, the Knicks struggled to consistently contend for championships. In 2017, he was traded to the Oklahoma City Thunder, followed by a brief stint with the Atlanta Hawks before joining the Houston Rockets.
However, it was during his time with the Portland Trail Blazers that Anthony experienced a resurgence in his career.
In 2019, Anthony signed with the Trail Blazers, rejuvenating his career and proving that he still had plenty to offer on the court.
He became a valuable contributor to the team, providing scoring and leadership. Anthony showcased his ability to adapt to a different role, embracing his veteran status and making an impact both as a scorer and a mentor to younger players.
Throughout his career, Anthony has been recognized for his offensive prowess and versatility. He has been selected to the NBA All-Star Game multiple times and has earned numerous All-NBA team honors.
Carmelo Anthony's ability to score from various positions on the court, combined with his clutch performances, has made him one of the most feared offensive threats in the league.
Off-Court Life
Off the court, Anthony has been involved in various philanthropic endeavors, using his platform to support communities in need and raise awareness for social issues.
He has been an advocate for social justice and has been involved in initiatives aimed at improving educational opportunities for young people.