This article will tell you about the career highlights of legendary basketball player Wilt Chamberlain
Wilt Chamberlain, born on August 21, 1936, in Philadelphia, Pennsylvania, is widely regarded as one of the most dominant basketball players in the history of the sport.
His career spanned from the late 1950s to the early 1970s and left an indelible mark on the game. Known for his incredible size, athleticism, and scoring prowess, Chamberlain's statistical achievements remain unparalleled.
Early Career
Chamberlain's basketball journey began at Overbrook High School in Philadelphia, where he showcased his immense talent.
As a high school sensation, he led his team to multiple championships and earned national recognition for his scoring prowess and rebounding abilities. His exceptional performances earned him a scholarship to the University of Kansas.
At Kansas, Chamberlain continued to dominate the competition, setting numerous records and earning All-American honors.
His combination of size, strength, and agility was unlike anything seen before, as he towered over opponents at 7 feet 1 inch tall. Despite being the target of frequent double- and triple-teams, Chamberlain still managed to score at an incredible rate.
In 1959, Chamberlain made the leap to the professional ranks and joined the Harlem Globetrotters, showcasing his skills and entertaining fans with his incredible athleticism.
However, his ultimate goal was to play in the NBA, and in 1959, he achieved that goal when he signed with the Philadelphia Warriors.
NBA Career
Chamberlain's impact in the NBA was immediate and profound. In his rookie season, he shattered scoring records, averaging an astonishing 37.6 points per game and earning the NBA Rookie of the Year award.
His physical dominance and scoring ability made him virtually unstoppable, as he possessed a unique combination of strength, speed, and agility.
During his career, Chamberlain established himself as the most prolific scorer in NBA history. In the 1961-1962 season, he achieved the seemingly impossible feat of scoring 100 points in a single game, a record that still stands to this day.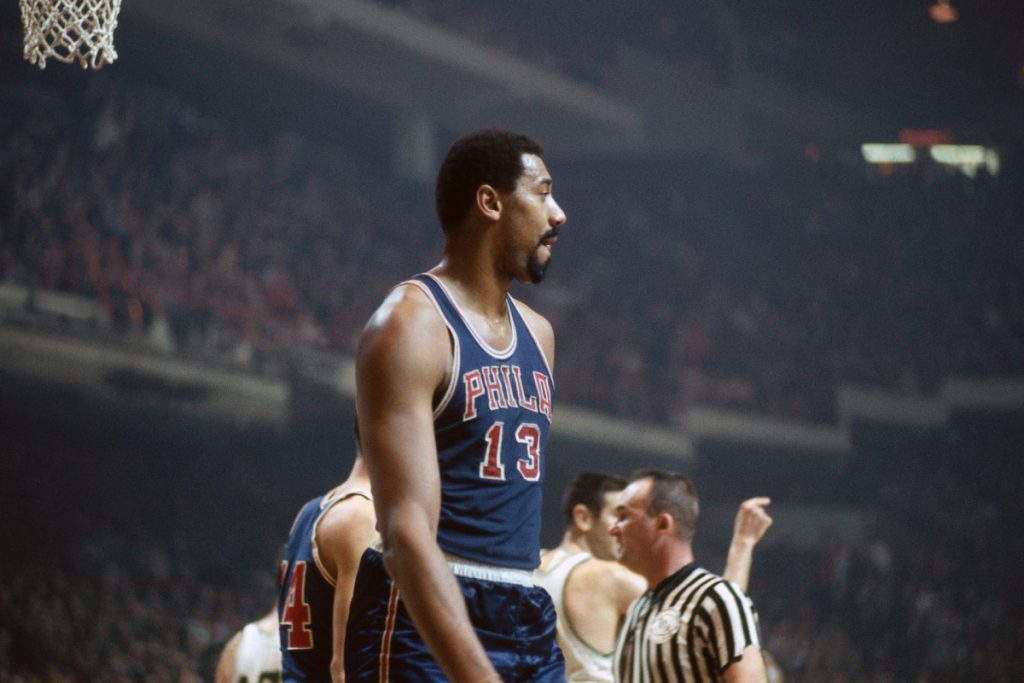 Chamberlain's scoring prowess was unmatched, and he led the league in scoring for seven seasons. His ability to dominate inside the paint, combined with his agility and athleticism, made him a force to be reckoned with.
Chamberlain's impact was not limited to scoring alone. He was also a dominant rebounder, utilizing his size and strength to secure an astounding number of rebounds.
He led the league in rebounding for 11 seasons and holds the record for the most rebounds in a single game with 55. His physical presence in the paint made him a formidable defensive force as well.
In 1962, Chamberlain led the Philadelphia Warriors (later the San Francisco Warriors) to one of the best team performances in history. Wilt showed one of the most dominating performances in NBA history.
His ability to elevate his game in crucial moments was evident throughout his career, as he consistently delivered clutch performances.
Transfer To Los Angeles Lakers
In 1965, Chamberlain was traded to the Philadelphia 76ers, where he continued to dominate the league. In the 1966-1967 season, he led the 76ers to an NBA championship. He also earned the NBA Finals MVP award. Chamberlain's tenure with the 76ers solidified his legacy as one of the greatest players of all time.
In 1968, Chamberlain was traded to the Los Angeles Lakers, where he continued to rewrite the record books. Teaming up with fellow basketball legend Jerry West, Chamberlain led the Lakers to multiple NBA Finals appearances. However, he fell short of capturing another championship.
However, his individual achievements continued to astound. This is because he further solidified his reputation as one of the game's all-time greats.
Chamberlain's career came to an end in 1973 when he retired from professional basketball. He left behind a legacy that included numerous records and accolades.
Awards & Achievements
Wilt Chamberlain is the NBA's all-time leader in rebounds. He averaged an incredible 22.9 rebounds per game over his career. He also holds the record for the most points scored in a single season, averaging 50.4 points per game in the 1961-1962 season.
Chamberlain was inducted into the Naismith Memorial Basketball Hall of Fame in 1978. His basketball accolades include two NBA championships, four regular-season MVP awards, and 13 All-Star Game selections.
Chamberlain's impact on the game of basketball extended beyond his statistical achievements. His dominance, athleticism, and larger-than-life persona made him a cultural icon. His records and achievements remain legendary, and his influence on the game continues to be felt.