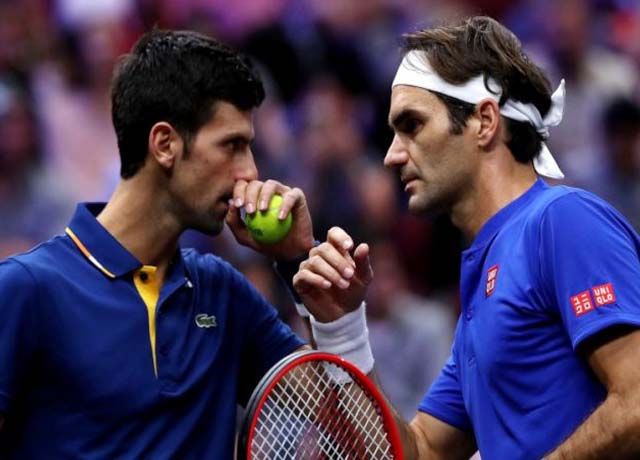 Sports Desk – Novak Djokovic predicted the future of Roger Federer and Rafael Nadal at Wimbledon
After defeating David Goffin, Novak Djokovic became the first player to qualify for the semi-finals.
On the other hand, Roberto Bautista Agut confirmed his four set victory over Guido Pella. Djokovic is set to take over Agut as his next opponent.
Whereas, Nadal and Federer played ties in their respective matches and they could clash on Friday after this perspective.
Djokovic, Nadal and Federer are the top three players in the world respectively on the world ranking. However, they should try their best at Wimbledon 2019.
Apart from this, he didn't showed any interest in discussing the lack of players having the age of under 30, remaining in the competition.
"I guess that's the case, yeah. I'm just glad to be one of the guys who is 30-plus and to be still in that group. Don't ask me more questions about young tennis players, when is their time to come up because we've talked about it," as said by Djokovic.
"I said that eventually is going to happen. It doesn't seem like it's happening on Grand Slams," he added.
"I guess this is where, especially Nadal, Federer, and myself, in a way we go onto next level in terms of tennis and focus.
"We're very dedicated to these tournaments. In particular at this stage of all of our careers, this is what matters the most for us."
Djokovic has played just six games against Goffin, one of them which ended as a Bagel set.
"I've been playing best tennis in this tournament in the last two rounds, fourth round and today," he cleared.
"Especially today second set and third set against Goffin, who was in form, I felt like I managed to dismantle his game and find always the right shots.
"Very pleased with the performance. This match could have gone different way. I was break down. He was the better player for most of the first set. But I managed to turn things around.
"Yeah, I feel very good on the court, confident, going for the shots, trying to come to the net, as well, be more aggressive, use the short balls.
"Hopefully serve also can be consistent because I'm going to need that. Especially on grass, you're going to need a lot of free points on the first serves. That's obviously a big advantage coming into last four."