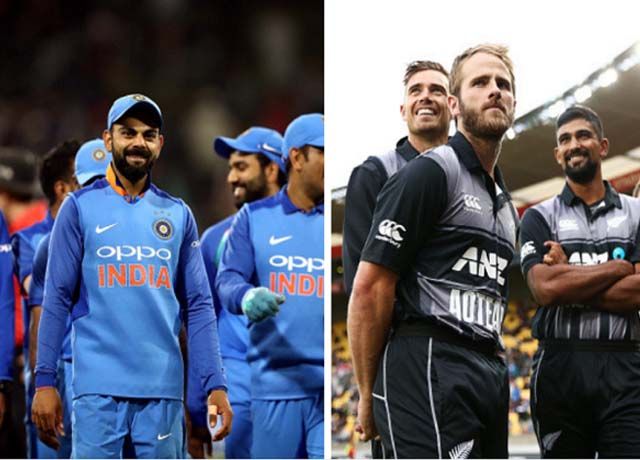 Sports Desk- India will face New Zealand on 13 June. The match will start at 3PM IST. Here are the World Cup stats and records of the match played between them.
The first match between India and New Zealand was played on 14 June 1975 in Manchester, in which The Kiwis beat The Blues by 4 wickets.
The last match between them was played on 14 march 2003 in Centurion, in which India beat New Zealand by 7 wickets.
In all the matches played between these two, the team who bowled in the second innings has won the most, despite a match in which India won by 16 runs in Bengaluru.
These two have played total of 7 matches in the CWC in which New Zealand has slightly dominated over India. It has won 4 matches and lost 3 matches.
World Cup Records
| | | | |
| --- | --- | --- | --- |
| Date | Winner | Margin | Stadium |
| 14 June 1975 | New Zealand | 4 wickets | Manchester |
| 13 June 1979 | New Zealand | 8 wickets | Leeds |
| 14 Oct 1987 | India | 16 runs | Bengaluru |
| 31 Oct 1987 | India | 9 wickets | Nagpur |
| 12 March 1992 | New Zealand | 4 wickets | Dunedin |
| 12 June 1999 | New Zealand | 5 wickets | Nottingham |
| 14 March 2003 | India | 7 wickets | Centurion |