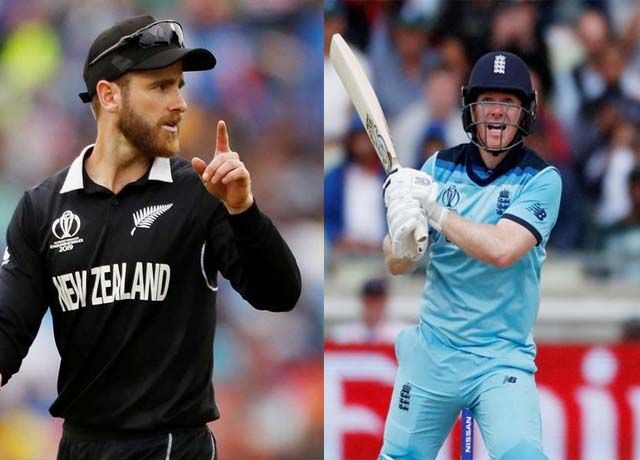 Sports Desk – On Sunday, New Zealand and England will fight for the Cricket World Cup Trophy 2019.
England has never won a Cricket World Cup and they are reached for the first time in the final of the CWC since 1992, in which they lost to Pakistan.
On the other side, New Zealand has also never won a CWC and this will be their second final of the CWC. Last time they reached the final in 2015, in which they are beaten by Australia who has won the most CWC (5 times).
This time, we will get a new champion as both the teams have never won a CWC. The hosts – England will remain the favourites in the match.
World Cup Records & Live Streaming
New Zealand and England has clashed 8 times in the CWC and in which New Zealand have dominated England.
Total Match Played: 8
New Zealand won: 5
England won: 3
Rivalry Records
Apart from the World Cup, both the teams have played 90 matches between them since 1973.
Total Match Played: 90
New Zealand won: 43
England won: 41
Tied: 2
No Result: 4
This will be 91st match which has to be played between them. According to the history, New Zealand has dominated England. Both the teams has defeated India in this CWC and India has lost two matches, only by these two.
Predicted XI
New Zealand
Kane Williamson – BAT
Ross Taylor – BAT
Colin Munro – BAT
Martin Guptill – BAT
James Neesham – ALR
Tom Latham – WK
Matt Henry – BOW
Colin de Grandgome – ALR
Loki Ferguson – BOW
Trent Bolt – BOW
Mitchell Santner – ALR
England
Eoin Morgan – BAT
Jonny Bairstow – BAT
Joe Root – BAT
Jason Roy – BAT
Jos Buttler – WK
Ben Stokes – ALR
Mark Wood – BOW
Chris Woakes – ALR
Jofra Archer – BOW
Liam Plunkett – BOW
Adil Rashid – ALR