Here we show you how Bayern Munich could line up next season
Bayern Munich has made some great signings this summer and has strengthened their squad once again. They have recently signed Matthijs De Ligt and have gained some defence talent who will be of a great help for them.
This article will tell you about Bayern Munich's possible starting XI for their 2022/23 campaign.
Possible Starting XI
Sadio Mane
Leory Sane
Serge Gnabry
Joshua Kimmich
Marcel Sabitzer
Thomas Muller
Lucas Hernandez
Benjamin Pavard
Alphonso Davies
Matthijs De Ligt
Manuel Neuer (GK)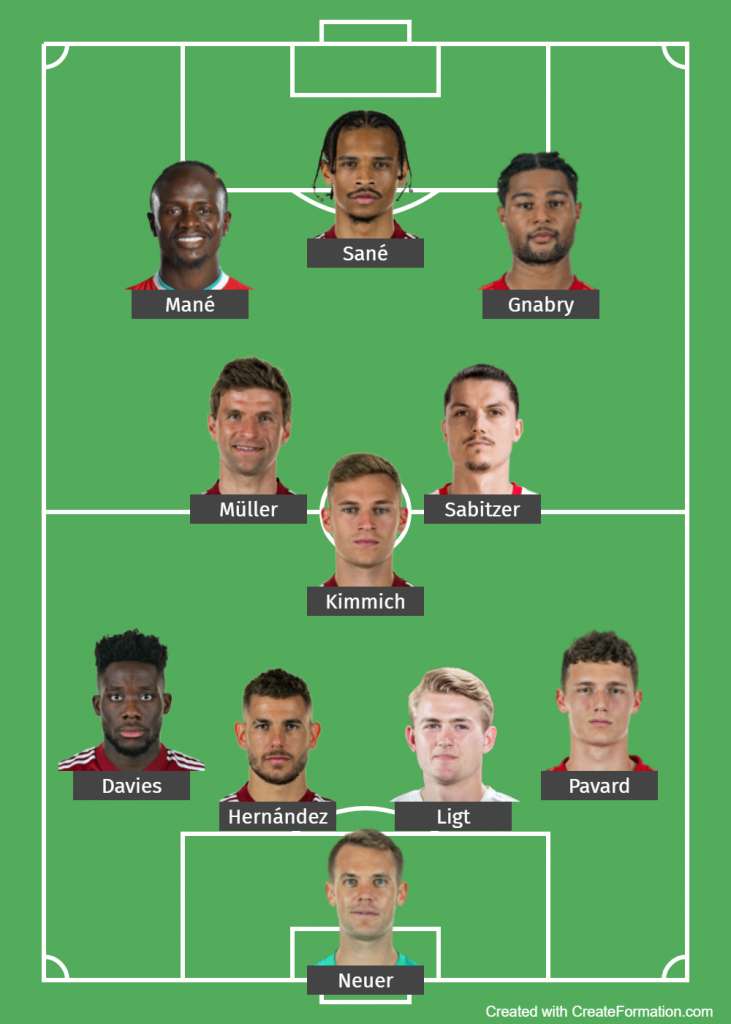 Someone had to fill the void left by Robert Lewandowski when he left Bayern in June and Sadio Mane was the one on whom the club showed its trust. We all know that nobody can replace Lewa at Bayern but Mane is regarded as one of the best forwards in football history and he can help the German club in many aspects.
Matthijs De Ligt recently joined Bayern after leaving Juventus where he gave his best for three whole seasons. He is, without a doubt, one of the best defenders in the world at present.
Bayern have Manuel Neuer who inarguably the greatest and best goalkeeper of all time. More importantly, Alphonso Davies is back in starting XI after a season full of injuries since he didn't have a good 2021/22 campaign.
Talking about the midfield, then no other club can compete the trio of Muller, Kimmich and Sabitzer.
Also Read: Top 10 greatest AC Milan players of all time