Cristiano Ronaldo has reportedly revealed his retirement plans as he approaches the age of 39 in February 2024
Cristiano Ronaldo has wowed the Saudi crowd since his arrival in January 2022. This summer, he changed the face of football when famous names from Europe followed in his footsteps to join Saudi Pro League clubs.
Even at the age of 38, the Portuguese star continues to astound his admirers on the field. However, he has admitted that his days of scoring practically every game are over and that he is nearing the conclusion of his illustrious career.
Ronaldo Might Retire In Yellow Jersey
On September 22, Al-Nassr defeated Al-Ahli in a Saudi Pro League encounter. Rival teams led by Cristiano Ronaldo and Riyad Mahrez competed. Nassr won in the end, thanks to braces from Ronaldo and Talisca.
A member of the Saudi Sports Media Federation relayed an important statement from Cristiano Ronaldo following the match.
Ronaldo, the football legend, announced his wish to complete his career with Al-Nassr. Ronaldo's choice not to play in Europe stunned the football world once more.
According to sources, Ronaldo has stated that he wants Al-Nassr to be his final stop in his football career. This declaration emphasizes his commitment to Al-Nassr and its fans by implying that he will not wear the shirt of any other club after leaving Al-Nassr.
How Long Does Ronaldo Intends To Play?
In the Saudi league, he scored nine goals in six games. With 34 goals, he is the second-highest scorer in 2023, trailing only Erling Haaland (36). These are Cristiano Ronaldo's numbers at 38 years old, and Al Nassr leads the table.
Yesterday, following another brace, the Portuguese indicated that there is still plenty of gas in the tank.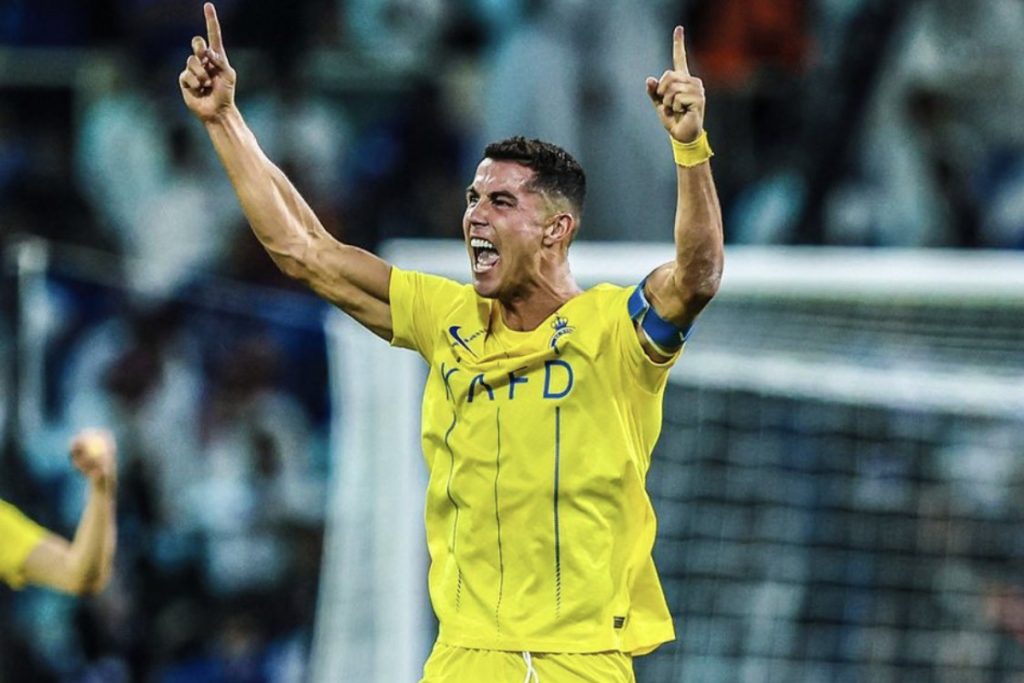 "I still love football. Even at my age, I love playing, scoring goals, and winning games. I'm going to keep playing until my legs say 'Cristiano, it's over'. Until then I'll keep playing and helping the team."
Those were the words of a relieved Ronaldo, who has found a new home to do what he does best: score goals.
Also Read: All Trophies & Achievements Won By Cristiano Ronaldo
The former Real Madrid player lauded the Saudi league once more. "We have great players. The league is getting better and better and the Saudi people deserve it because they are great people," said the striker.
The victory over Al Ahli puts his squad in top place.
The 38-year-old Portuguese forward became the highest-paid player in football history after joining Al-Nassr. Ronaldo agreed to a €200 million per year contract extension through 2025.
When asked if he intended to retire soon, Ronaldo stated that he hoped to continue playing for another two or three years. His current deal runs through 2025.
Ronaldo himself expressed this sentiment, saying, "My future? According to Marid Xtra, "I would like to play for 2/3 years more."
Ronaldo presently leads the Saudi Pro League scoring chart with 9 goals in 6 games and was voted Player of the Month in August.
Despite his age, the five-time Ballon d'Or winner shows no signs of slowing down. Despite his remarkable career, CR7 still has a lot to offer the football world before he retires.