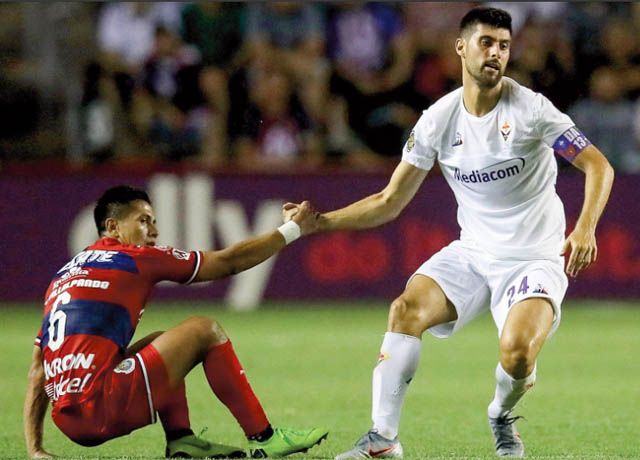 Sports Desk – On Tuesday, Fiorentina defeat Guadalajara by 2-1 in the first match of International Champions Cup 2019
The first match of ICC 2019 has been played between Fiorentina and Guadalajara, in which Fiorentina spotted their first win and first three points in the cup.
Fiorentina was looking better than Guadalajara but no one could define the final results of the match.
The first goal of the match was scored by Eduardo Lopez in 25' for Guadalajara. A deflection from the opposition defender made the goalkeeper confused and the ball strikes the bottom right corner of the net.
But Fiorentina is far better than Guadalajara. The first goal for Fiorentina was scored by Pablo Simeone in 27' to equalize the scoreline. A great free kick pass to him and he headed the ball into the nets.
After this, Riccardo Sottil scored the goal in 52' to confirm a goal lead over Guadalajara. Marco Benassi failed to put the ball into the nets but Sottil finished it superbly.
The final whistle came and the Italian club took victory over Mexicans by 2-1.
On Wednesday, Arsenal will take on Bayern Munich in the second match of the cup. We will see many big game winners during the match and it will be a great match for the football fans to watch.
Also More :