The best possible lineups of the legendary players who are now managers/coaches
Some players become managers after retiring from their professional careers. We have created a lineup showing managers who have played highest number of games in their career as a player.
This article will tell you about the best possible lineup of the legendary players who are now coaches/managers. Can you guess which of these managers went one season unbeaten with his club?
Playing XI – 7005 Games In Total
Wayne Rooney – 884 games
Andriy Shevchenko – 624 games
Steven Gerrard – 863 games
Zinedine Zidane – 739 games
Xavi – 1003 games
Patrice Viera – 743 games
Giovanni Van Bronckhorst – 606 games
Mauricio Pochettino – 422 games
Vincent Company – 622 games
Jurgen Klopp – 347 games
Espirito Santo – 202 games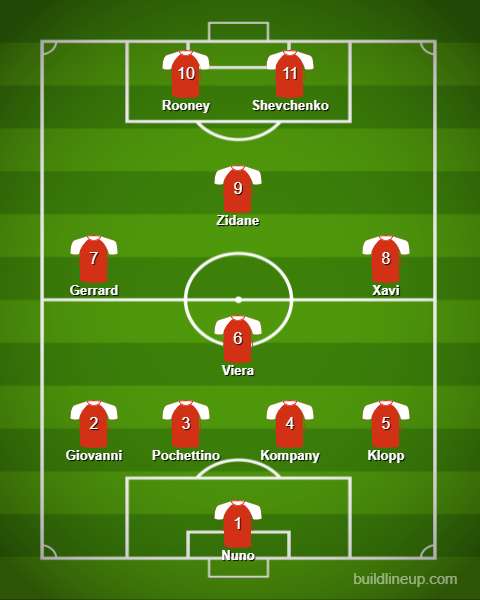 The front two are arguably one of the greatest strikers in football history. Rooney's career as a manager hasn't gone quite well during his stint with Derby County, but he did many wonders as a player.
The midfield include players like Xavi and Zidane who have proven their worth as coaches. One of Zidane's achievements includes his three Champions League title in a row.
Vincent Company is undoubtedly the best defender in this lineup, having won a number of trophies with Manchester City.
Answer to the question above – Steven Gerrard