Here is the playing XI including the players who might miss the 2022 FIFA World Cup
Which of the remaining 8 teams will qualify for the 2022 FIFA World Cup? We gathered some information from Transfermarkt for some of the best players in the world, that is, their current performing stats.
This article will tell you about the playing XI including the players who are still at risk of missing out on the 2022 FIFA World Cup.
Playing XI
Sadio Mane
Cristiano Ronaldo
Mohamed Salah
Wilfred Ndidi
Bruno Fernandes
Jorginho
Andrew Robertson
David Alaba
Çağlar Söyüncü
Joao Cancelo
Gianluigi Donnarumma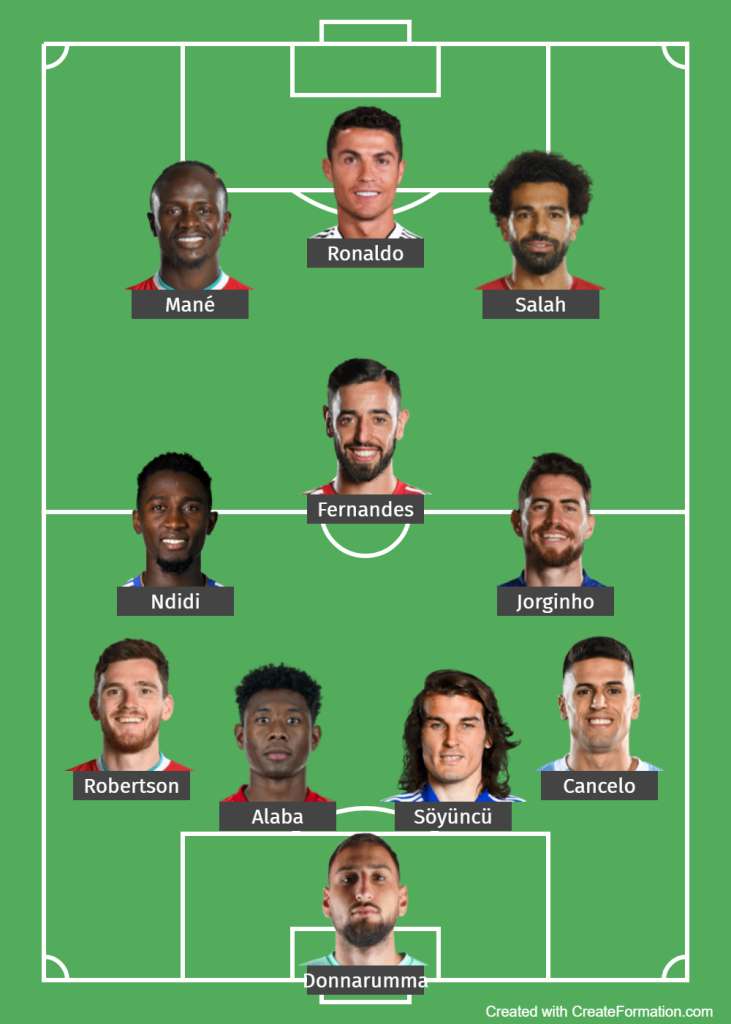 Cristiano Ronaldo's Portugal will face Turkey in the knockout match for the 2022 FIFA World Cup which is to be held somewhere near October. No one would want him to get knocked out as it could be his last World Cup campaign of his career.
Other than Ronaldo, there are two more Portuguese in the formation – Bruno Fernandes and Joao Cancelo. But they are not as old as their captain so it will be inappropriate for them to retire after this World Cup.
Also Read: Top 10 Most Valuable Players – FIFA Club World Cup 2022
In a recent incident, Zlatan Ibrahimovic has praised Anthony Elanga for his amazing gameplay and as Sweden prepare for their playoff against the Czech Republic in Stockholm.
"First time I met him, we were in the restaurant in the (United) training ground and he came up to me and he said, 'you know my father' and I was like, help me now because I don't know who I'm talking to," Ibrahimovic, who will miss the Czech match due to suspension, said.
"'You played with my father Elanga', and then everything clicked and I said 'okay', and it made me happy because I wasn't the only Swedish one in Manchester, we had another Swedish player."
Also Read: 15 Football players Who Could Retire After 2022 FIFA World Cup
Ibrahimovic even allowed the 19-year-old Elanga to take centre stage on the podium between himself and Sweden's team press officer.
"We're all happy.You will have something to watch for another 20 years," Ibra added with a smile.