Brazilian football star Neymar recently contracted with Puma. He will get around Rs 230 crore (£23 million) every year for playing matches wearing shoes of this company. It is a multi-year deal as well as it is the most expensive deal among active football players. Italy's Mario Balotelli is also named in the Top 10 deal and he gets 48 crores every year, right now they are not playing for any club. Messie is the second player who gets 173 crores every year.
The 28 year old Neymar wrote "I grew up watching videos of great football legends such as Pele, Cruyff, Eusebio and Maradona…who each played in Puma. "For these reasons, from today onward, I have the honour to unite with the brand that helped the biggest legends of football become what they are. 
The world's most expensive player Neymar confirmed his new deal as Puma's poster boy on twitter but there is no confirmation of the length of the contract. Rumours are flying that football player neymar would sign with Puma since his endorsement deal ended with nike. Nike is one of the companies who sponsor Neymar at the age of 13. Neymar's contract with Nike was for 11 year worth a total $105 million. According to forbes magazine, neymar is the world's seventh paid celebrity, whose estimate earning for this year at $95.5 millions, including endorsement deals.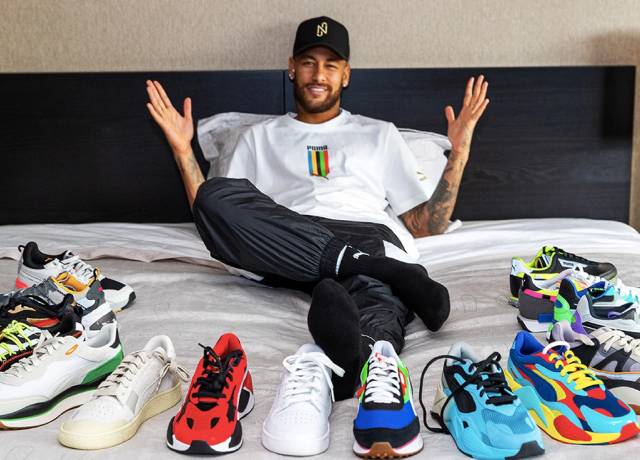 Football player Neymar followed more than eight accounts associated with the brand on instagram and posted pictures with the background of Puma on social media. Now Puma will be hoping that in the upcoming season Neymar can inspire PSG to Champions League glory.
List of football players
- Advertisement -
| | | | |
| --- | --- | --- | --- |
| S. No | Players | Shoes Deal | Company |
| 1. | Neymar | 230 crores | Puma |
| 2. | Lionel Messi | 173 crores | Adidas |
| 3. | Cristiano Ronaldo | 144 crores | Nike |
| 4. | Kylian Mbappé | 134 crores | Nike |
| 5. | Mario Balotelli | 48 crores | Puma |
| 6. | Gareth Bale | 38 crores | Adidas |
| 7. | Cesc Fàbregas | 38 crores | Puma |
| 8. | Antoine Griezmann | 34 crores | Puma |
| 9. | Paul Pogba | 29 crores | Adidas |
| 10. | Marco Verratti | 24 crores | Nike |
| 11. | Mohamed Salah | 24 crores | X18 |
Watch UEFA Champions League Live Streaming Free Online