Sports Desk – Ansu Fati became Spain's second-youngest player recently. he just a few days older than Angel Zubieta was when he faced Czechoslovakia for Spain in 1936.
Who is Ansu Fati?
Ansu Fati (Anssumane Fati) is 17-years-old, born on 31 October 2002, and is a professional football player from Spain. Ansu Fati has also played in UEFA Youth League for Barcelona U19.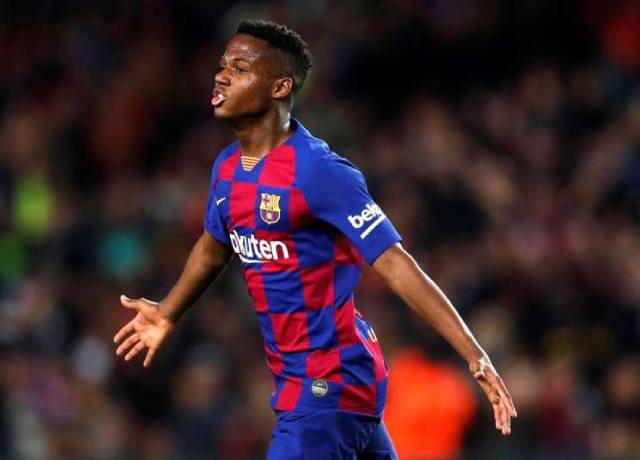 Ansu Fati Records
In 25 August 2019, When he came on as a substitute in a 5-2 defeat of Betis at Camp Nou, Vicente Martínez was the only player to have played his first league game for the club at an even younger age.
In 31 August 2019, A week later at the home of Osasuna, Ansu Fati was just 16 years and 304 days when he converted a Carles Pérez cross to score the first goal of a game that ended 2-2.
The most skill-full player of his generation – Ronaldinho
In 14 September 2019, Within seven minutes of the 5-2 win over Valencia, Fati had become the youngest player to provide a goal and assist in the same game in the history of La Liga.
Fati's goal against Valencia made him the youngest goalscorer in the history of the Camp Nou, aged 16 years and 318 days.
That strike also made him the youngest player to ever reach two La Liga goals.
In 17 September 2019, Just three days after that he started against Dortmund at Signal Iduna Park, setting another record as he played the first 55 minutes before being replaced by Leo Messi.
The best defender at some time – Gerard Pique
In 15 October 2019, His exploits for Barça won him a place in the Euro U21 qualifier against Montenegro, making him the second youngest player to do so after another former Barça man, Bojan Krkic.
In 10 December 2019, Ansu Fati scored his first goal in Europe at the Giuseppe Meazza, at 17 years and 40 days old.
At 17 years and 48 days, he became the youngest player to feature in El Clasico in the 21st century.
Young magician: @ANSUFATI ? pic.twitter.com/iE38ozcpqY

— FC Barcelona (@FCBarcelona) February 13, 2020
Ansu Fati Market Value
With a market value of ₹4.17bn, Ansu Fati is ranked number 11 among all players worldwide playing as "Left Winger".
- Advertisement -