Prithvi Shaw Biography – Prithvi Shaw is an youngest Indian cricketer and former India national under-19 cricket team captain. Shaw made his first international appearance on 4 October 2018 and became the second-youngest Indian after Sachin Tendulkar to make a Test century and the youngest Indian to do so on Test debut. Today we are going to tell you about Career, Age, Rankings, Records, Biography and Girlfriend.
Personal Info/Life
Real Name – Prithvi Pankaj Shaw
Nickname – Malan
Date of Birth – 9 November 1999
Age – 20 years
Birth Place – Gaya, Bihar, India
Profession – Cricketer
Height – 5 ft 5 in (1.65 m)
Bowling Style – Right-arm off break
Batting Style – Right-handed
Role – Batsman
Nationality – Indian
School – Rizvi Springfield, Mumbai
College – Rizvi College of Arts, Commerce and Science, Mumbai
Educational Qualifications – Pursuing Graduation
Father – Pankaj Gupta
Mother – NA
Marital Status – Unmarried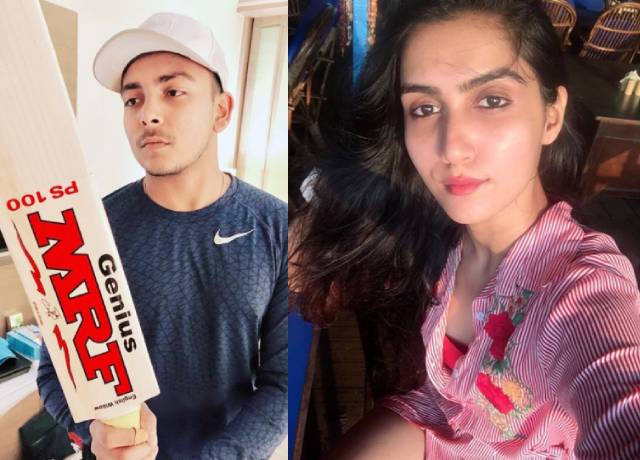 Girlfriend – Prachi Singh (TV Actress)
Prithvi Shaw dating Prachi Singh? Instagram Comments Hint
Cricket Debut
First-class : Mumbai v Tamil Nadu at Rajkot, Jan 1, 2017
Last First : Mumbai v Karnataka at Mumbai, Jan 3, 2020
List A : Gujarat v Mumbai at Chennai, Feb 25, 2017
Last List A : New Zealand A v India A at Christchurch, Jan 26, 2020
Test debut : West Indies v India, 4 October 2018
IPL T20 : Delhi Daredevils v Kings XI Punjab at Delhi, Apr 23, 2018
Career
Domestic Career
In 2013, when he first hit the headlines, for a scintillating knock of 546 off 330 balls in a school match. Since then, the hard-hitting batsman's career has only seen an upward trajectory.Prithvi Shaw after 546 innings.
In 2014, he played for the Yorkshire ECB County Premier League for the entire summer and mustered up impressive performances.
In November 2016, Shaw was part of the India Under-19 squad that won the youth Asia Cup in Sri Lanka.
Shaw made his first-class debut in the semi-finals of the Ranji Trophy in 2016-17. He scored a century in the second innings of the match.
In 2017, he scored his first century at the Under-19 level in his fifth match only. His performances over the years have led to several comparisons to Sachin Tendulkar and he is seen as a future superstar for India.
Shaw, meanwhile, went on to score 4 centuries in his first 5 First-Class matches. In 2018, under the watchful eyes of Rahul Dravid, he led India to a title triumph in the Under-19 World Cup in New Zealand.
Test Career
He was included in the squad for the final two Tests against England in August 2018. However, he did not get a chance to show his skills in foreign tours.
Prithvi Shaw got the chance to don the white flannels one month later against West Indies in the home series. And playing his first match, Prithvi Shaw smacked a century and became the youngest Indian player to hit a Test century on debut and second-youngest player to hit a Test century after Sachin Tendulkar on 4 October 2018.
He was picked again for the 2020 tour of New Zealand cricket team but could not muster up any big score as he finished the two-match Test series with a tally of 98 runs under his belt.
IPL Career
Delhi Capitals bought him at a jaw-dropping price of 1.2 Crores during the auction.
Shaw showed that he was worth every penny spent by the franchise as he amassed 245 runs in 9 matches during IPL 2018 with an imposing strike-rate of 153.12. However, he had a seduction instead of IPL 2019 where he could score only 353 runs in 16 innings. Delhi Capitals bought again in IPL 2020 auction for 1.2 crore.
Records
546 on 330 balls – for his school Rizvi Springfield in the Harris Shield in 2013
100 in Ranji trophy debut – Made a century in seconding inning of his debut match against Tamilnadu in 2017
Youngest player who made a century in debut in duleep trophy – In Sept 2017 he broke the record of Sachin Tendulkar
Century in his international test debut – Made 134 against West Indies in October 2018
Prithvi Shaw Biography/Known Facts About
Prithvi Shaw was born on 9 November 1999 in Gaya, Bihar, India. Mumbai's Cricketing of Shivaji Park, Prithvi Shaw has carved a unique identity for himself over the years.