This article will tell you about the relationship between Carlos Sainz and his girlfriend Rebecca Donaldson.
Carlos Sainz's love life has taken more twists and turns than a lap around the track in Monaco, and we're all simply trying to keep up.
The intriguing story of Carlos Sainz has captured the attention of dedicated followers, and a new name has appeared in the spotlight alongside the Spanish speedster.
Carlos Sainz's Girlfriend
Rebecca Donaldson is at the center of this romantic story. Rebecca's life begins in the exciting English city of London. This 28-year-old Scottish beauty, born in 1995, has grabbed hearts not just with her dazzling blue eyes and dark brown hair, but also with her charming attitude.
Rebecca's life is a tribute to her perseverance and ambition as a graduate, entrepreneur, and social media star. She is a lady who has forged her own path in the world, leaving footsteps that extend beyond the runway, past the glossy magazine covers and dazzling photoshoots.
Rebecca, however, is more than her amazing beauty and charming presence. She is also an athleisure model, identifying with the fitness and wellness business, which aligns with her healthy lifestyle and dedication to total well-being.
Her love life is interwoven with Scott Disick's and Kourtney Kardashian's. According to accounts, Donaldson dated Disick for two months and it was nothing serious.
This was following the marriage of the older Kardashian sister to Travis Barker. Is Donaldson now in love with Carlos Sainz?
How Did Carlos Sainz And Rebecca Donaldson Meet?
Imagine a scene from a romance novel: two souls strolling over Italy's cobblestone streets, the sun sinking in the background, throwing a warm golden glow. That's exactly what Carlos Sainz and Rebecca Donaldson were doing as they went hand in hand, enjoying small discussions and fleeting glances.
This newfound love, developing against the backdrop of Milan, provides a lovely touch to the racing battles. Their friendship was first documented on social media, where a video of their shared moments piqued the interest of followers and admirers alike.
But hold on–this was not their only meeting. They frequently see each other and enjoy spending valuable time together.
How Did Carlos Sainz Breakup With Isabel Hernaez?
Yet, just as unexpected twists cast a shadow over life's most beautiful moments, the story of Carlos Sainz and Rebecca Donaldson is tinged with irony.
Among the renewed romance, rumors of Carlos's previous relationship and a probable cheating scandal cast a shadow on the story. The Spanish driver, who had been in a seven-year relationship with Isabel Hernaez, was suddenly embroiled in adultery suspicions.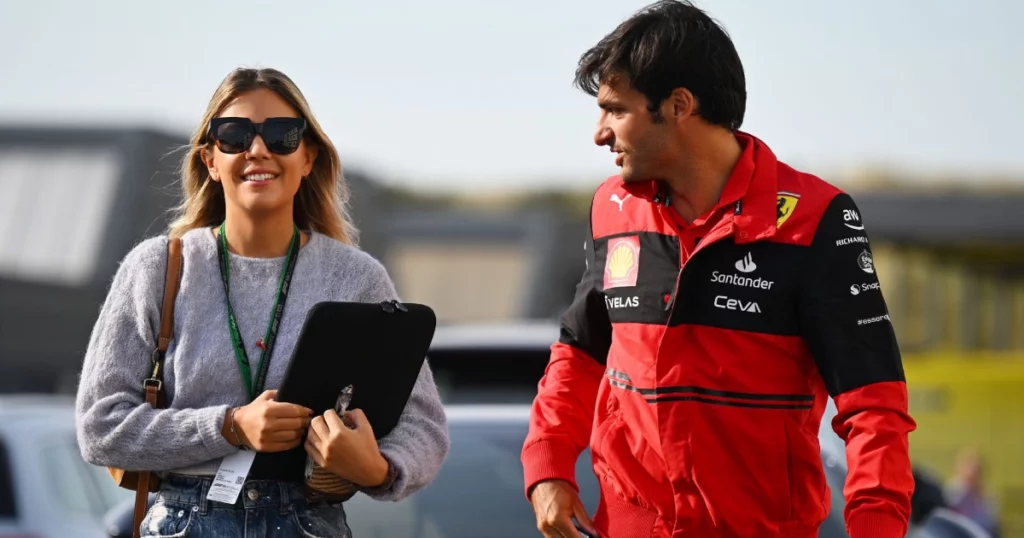 During the Monaco Grand Prix afterparty, a group of gorgeous souls unwittingly set the stage for an unexpected twist. Mia Brown and Rebecca Donaldson were both present, two women whose lives would unintentionally connect with Carlos Sainz's.
The stormy undercurrents of scandal disrupted the calm of the romance tale as whispers of adultery surfaced.
The sad news of Carlos Sainz's breakup spread throughout the Spanish Grand Prix. The Spanish speedster found himself navigating the convoluted paths of love, devotion, and desire amid the tornado of media attention, speculation, and the cacophony of social media.
But it was Rebecca Donaldson who piqued the Spanish racer's interest when Sainz and Donaldson were enjoying their summer vacation in Sardinia, Italy.
As their holiday unfolds in the midst of Sardinia's splendor, the love story that has been slowly developing takes on new dimensions.
Following the 'Smooth Operator's' victory in Singapore, the two were seen partying at a nightclub. She has now accompanied him to Japan. Sainz will be hoping that lady luck shines on him as well at Suzuka.