best cricket moments of the decade – Just like all virtually every other aspect of our lives, the COVID-19 pandemic has greatly affected the world of sports. During the first half of the year 2020, cricket competitions and tournaments were largely put on hold. Regardless of whether it is the ODIs, test matches, or T20, authorities postponed most events and cancelled others. Domestic games, as well as world tours suffered and international cricket associations announced rolling updates as events were pushed further and further back.
Nevertheless, 2020 has presented us with its share of memorable cricket moments. Let's look at some of the most captivating and exciting moments in cricket during the year.
Maxwell-Carey Partnership Grabs Royal London Series, September 16, 2020
With the extraordinary batting partnership of Glenn Maxwell and Alex Carey, Australia beat England to win Royal London, their first ODI series of 2020, on September 16 at Old Trafford. Both attained centuries, with 108 and 106 runs respectively, in a match that started as an arduous chase of 303 runs with a bleak 73 at a stage when they lost five wickets. Maxwell, with his glorious century, also covered the 3000-run mark in his ODI career and was also the fastest to attain it in the 50-over format. He won both the 'Player of the Match' and 'Player of the Series' awards.
Jos Buttler's Easy Scoring Takes England to Victory, September 6, 2020
Another great moment of 2020 was Jos Buttler's appearance as the opener in the T20 series against Australia. He stayed not-out scoring 77 runs from 54 balls to lead England to win the series. Though he maintained a steady pace for the first four overs, he rapidly shot up after that, scoring at a higher speed, making easy sixes whenever required. Buttler made a total of 5 boundaries. He stood tall and confident throughout the match, and proved to be a master of strokes – laps, paddles, reverse sweeps – you name it! The sheer versatility and variety was indeed entertaining in themselves and made the moments memorable.
5 Sixes in One Over by Rahul Tewatia off Sheldon Cottrell, September 27, 2020
In Match-09 of IPL 2020, Rahul Tewatia helped Rajasthan Royals win against Kings XI Punjab in an incredible feat in which he smashed five sixes in an over by Sheldon Cottrell. The RR team was hard-pressed for runs, needing 51 from the last three overs when something incredible happened in the 18th over, with Tewatia scoring five sixes in one over.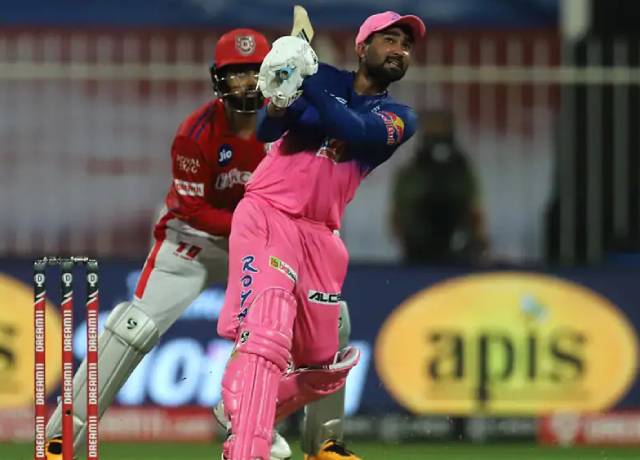 Heather Knight's Century that Made a Record, February 26, 2020
In the seventh ICC Women's T20 World Cup of 2020, England Captain Heather Knight scored the first century of the series, 108 runs not-out, out of 66 deliveries, leading her team towards victory against Thailand. And with that, she became the first female player in international cricket to achieve centuries in all three formats of the game. This followed a test century against Australia in 2013 and an ODI century against Pakistan n 2017.
Bangladesh Wins U19 World Cup for the First Time, February 9, 2020
It was a marvellous moment for Bangladesh when they won the thirteenth edition of U19 Cricket World Cup held in South Africa. In their first ever U19 World Cup victory, they defeated leading team India for three wickets. India batted first and scored 177 runs with an all-out. Bangladesh scored at a fast pace with 55 runs in the first ten overs losing only a single wicket. As they were on the forty-first over, authorities concerned reduced the match-length with a lowered target due to rain. With Akbar Ali's noteworthy performance, the match ended in a victory based on the Duckworth Lewis method with 21 balls remaining.
Jacques Kallis Inducted to ICC Cricket's Hall of Fame, August 23, 2020
South African cricketer Jacques Kallis, considered an all-rounder and counted among the greatest players of the modern era, was honoured by the ICC by inducting him into the Cricket's Hall of Fame. He is the only cricketer in history to score 10,000 runs and 250 wickets in both Test and ODI cricket. The traditional touch to his deliveries and an incredibility ability to swing the ball over long distances has made him a legend, as well as his unique confidence in his strokes.
Players Take a Knee for 'Black Lives Matter' Campaign, July 9, 2020
In what is a rare event in the arena of cricket, the players of England and West Indies took a knee in solidarity for the 'Black Lives Matter' campaign with the logo displayed on their t-shirts before the start of Premier League matches. This took place in Southampton as tournaments restarted after COVID-19 lockdowns. The world witnessed sports blending with humanity with this respectful gesture from the players.
The moments listed above are just some of the most memorable cricket moments of 2020. Such moments are examples the incredible tactics seen in cricket, as well as sportsmanship, and an undying passion for cricket. Let's hope the next year will be less restricted and brings more matches and tournaments, and even more memorable moments!