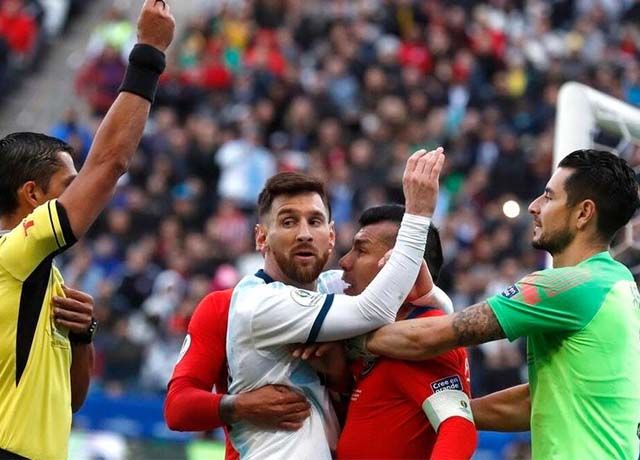 Sports Desk – On Sunday, Argentina defeat Chile by 2-1 with a shocking event of a red card given to Lionel Messi.
Argentina faced Chile for the third place and won the match by 2-1. But the most shocking event in the game was when Leo Messi and Gary Medel was given a red card after a fight between them.
Messi had never got a red card in any international game but this was his worst game he has ever played. The story of the match is discussed now.
Also More : Is Alisson Becker a curse for Lionel Messi?
Chile got the most possession throughout the game. The first goal of the match was scored by Sergio Aguero in 12'. A great through pass given by Messi to Aguero in between the free kick scene and a great finish by him after cutting the goalkeeper.
- Advertisement -
The second goal for Argentina was scored by Paulo Dybala in 22'. The ball was not in his control but even then, he converted a hard chip shot when the goalkeeper came forward to handle the ball.
The third goal of the match was scored by Arturo Vidal in 59' in a penalty kick. Pezzella commited a foul just inside the penalty area, which gave Chile an opportunity to equalize the scoreline. But Chile lost the game by 2-1.
Brazil and Peru will strike in the final of the cup on Monday at 1:30 am.
Also Read : Gianluigi Buffon is back to Juventus after a free PSG exit
Also Read : Viral: A cow playing football with the street boys