Sports Desk – Ireland batsman Kevin O'Brien is known for his explosive batting. Kevin hit a six in a match on Thursday, breaking the mirror of his own car.
O'Brien hit as many as 8 sixes in a Domestic T20 match on Thursday but unfortunately, one of his sixes smashed the windscreen of his own car outside the stadium.
O'Brien scored a quickfire 82-run knock off just 37 balls that saw him clear the boundary on 8 occasions for Leinster Lightning in the match against North West Warriors at Pembroke. His extravagant knock helped Leinster secure a 24-run victory in the Test Triangle Interprovincial T20 series over the Warriors.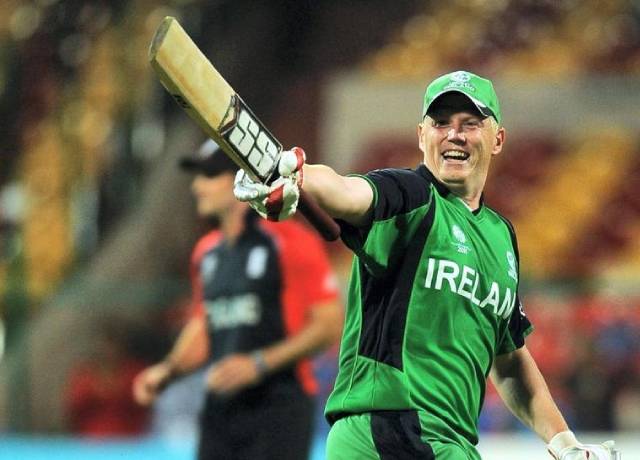 The match saw plenty of disruption due to rain because of which it had to be initially reduced to 17 overs a side and then 12 overs a side. There, however, was little to disruption in O'Brien's firey innings who kept hitting the bowlers out of the park at will.
As one of his sixes smashed went into his own car, Cricket Ireland took to Twitter to share the picture of the devastation.
?: KEVIN O'BRIEN SMASHES SIX…

…and his own car window. Seriously.#IP2020 | @TestTriangle ☘️? pic.twitter.com/dKbfDRHrjY

— Cricket Ireland (@Irelandcricket) August 27, 2020
After this, the North West Warriors team was able to score 104 for 8 wickets in 12 overs and Leinster won the Duckworth Louis Rule by 24 runs.
"I found out it was my car at the end of our innings and I was frantically on the phone trying to get someone to fix it for me," O'Brien said as he came to realise that he smashed his own car with one of the sixes. What is amusing is that it was the second time O'Brien had done this.
"It's actually the second time I've hit my own car at Pembroke. We had a training session at the ground a few months ago and I put a dent in the passenger door, so I probably shouldn't park as close to the pitch as I usually do.
Kevin O'Brien has played 3 Tests, 148 ODIs and 96 T20 Internationals so far in his career. He has a total of 258 runs in Tests, 3592 in ODIs and 1672 runs in T20 International.
Also Read – IPL : When Virat kohli Angry On Wrong Decision of Umpire
Also Read – 5 biggest controversies in the history of IPL
Also Read – Top 5 Lowest Team Score in IPL History